For those of you who don't know, Frame USA is extremely dedicated to helping those in need. The Monthly Charitable Gift Program started many years back and ever since then we have supported local and national charities in a number of different outlets. We not only donate money, our time and other needed resources but we use our website and retail store as a way to  make these deserving charities known to the masses. Unlike other companies that choose a charity, not only does every single penny that is donated by our customers go to that respective charity, but we as a company use our success as a way to give back. For every purchase of picture frames made on our website, no matter if the customer themselves donates, we donate $0.75.  In our retail store, for every custom framing order we donate $1.00. In the month of September, we donated over $1,500 to our two charities of the month.
The Month of November has the lucky opportunity to be a month where people everywhere think about just how thankful they are for everything that they have been given. I'm sure that everyone can agree that there is nothing more wonderful than sitting down with your family and friends as you all fill yourselves full with a nice warm meal and feeling the warmth of their love. Some people aren't this lucky, in fact, 1 in 6 neighbors in our Tri-State area of Cincinnati is at risk of hunger.  Of that number, nearly 100,000 are kids. This statistic shocked us and really solidified our decision for our November Charity of the Month. For our November 2014 charity month, we have chosen The Freestore Foodbank.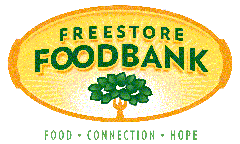 The Freestore Foodbank was started in 1971 by a worker at Cincinnati's incinerator named Frank Gerson. Gerson saw in his profession useable household items being tossed away. He began to collect those items and give them away to families in need. He was so passionate about this that he quit his job and opened for business in his apartment called the Free Store.  8 years later the Free Store became a founding member of Feeding America. It was around this time that the Free Store evolved into the Freestore Foodbank. Today, it is under the leadership of Kurt Reiber and it is one of Ohio's largest food banks. Annually, this organization distributes 20 million meals through a network of about 260 community partner agencies serving 20 counties in Ohio, Kentucky and Indiana. The vision of The Freestore Foodbank is to be the leader of a community mobilized to end hunger and address its causes.
We ask that as you begin buying your holiday presents, and start thinking about how thankful you are for the people and things in your life that you consider being the reason someone else is thankful this holiday season. We've made it as simple as clicking a button (Here's a little secret for you: that is in fact what you do to participate, you click a button to donate $1 as you are completing your order of picture frames online). 
For more information about this month's Charity of the Month and the different programs they are involved in on top of their main mission, please visit their website at http://freestorefoodbank.org/.