Frame USA's sister site, Art & Canvas, recently added two new posters to our growing collection of pieces by Ralph Steadman.
Art & Canvas has several posters of artist Ralph Steadman's illustrations, but the newest additions are titled "The Secret of Dreams" and "Savage Journey".
"The Secret of Dreams", pictured on the right, is an illustration of Ralph Steadman's interpretation of Sigmund Freud having the secret of dreams revealed to him in 1895. The poster shows Sigmund Freud, the founder of psychoanalysis and one of the early 20th century's most influential thinkers, sitting at his desk working. Behind Freud is a surreal mass of strange imagery, or "the secret of dreams". Ralph Steadman spent over three years researching Freud and creating artwork inspired by him. He even visited Freud's hometown and spent time in the rooms where he analyzed his patients. These works were ultimately published in an art book titled "Sigmund Freud".
"Savage Journey", pictured on the left, is based on Hunter S. Thompson's book "Fear and Loathing in Las Vegas". Steadman illustrated the novel which was published in 1971. "Fear and Loathing in Las Vegas" tells a surreal nonlinear narrative of characters traveling to Las Vegas on a psychedelic journey. The book explores themes of the declining American dream and the 1960s counterculture. Steadman and Hunter S. Thompson had a long partnership of Thompson writing books and articles which Steadman made illustrations for.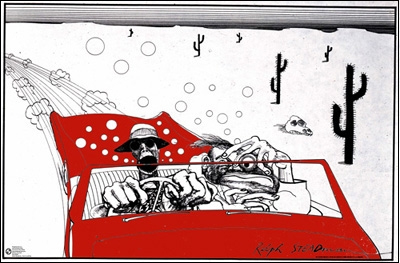 Art & Canvas also has a poster of this famous drawing Steadman made for the book. The poster is self-titled "Fear and Loathing". The Hunter S. Thompson novel was adapted into a movie in 1988 which has become a cult classic. Steadman appears in the commentary for the movie in the DVD set, as well as in a documentary titled "Fear and Loathing in Gonzovision".
Steadman has worked with numerous other authors including Ted Hughes, Adrian Mitchell, and Brian Patten. He has also illustrated covers for editions of classic books such as Alice in Wonderland, Treasure Island, and Animal Farm.
Art & Canvas and Frame USA are incredibly honored to be able to work with such a prolific and well acclaimed artist. We take pride in making the work of influential artists accessible to everyone.