At Frame USA we offer a wide variety of frame mats that run anywhere from standard mat sizes to to custom frame mats.  A mat is a flat and usually thin piece of material included or sold separately from a picture frame. Mats usually serve one of two purposes; additional decoration to make your art pop or they're used to separate the artwork from the glass frame. The art of putting mats in a frame is called matting and is an often overlooked aspect that can dramatically improve and protect your artwork.

In terms of helping your art pop, matting can be a crucial element. Matting your artwork intensifies the art by adding size, color and depth to what's being portrayed. The point of the mat is not to distract from your art but to direct the person viewing said art to the main focal point of what they are looking at. Some tips when choosing a mat to enhance your art:
When choosing a mat for your artwork, the mat should be lighter than the art or picture but darker than the wall it's placed on. Great choices for mats most times are simple colors such as gray, white and cream.
Using two or three mats will give your artwork a three dimensional look
The purpose of matting photographs or art is to protect & add appeal. To achieve this, the mat border should be 2x the width of the frame.
When it comes to protecting artwork, mats are very important. Mats help keep your artwork safe by separating the glass from the art or whatever it is being framed. Having a mat in between your artwork and framing glass is important because any condensation that might develop on the inside of the glass can be transferred to your art causing water damage, mold or mildew.
If you're framing pictures then separating your picture from the glass is vital because the surface of photographs are particularly easy to damage. Not only photos, but certain art that can smear or be damaged by touch, or anything of value being hung should also be matted so that the glass and the art don't come into direct contact.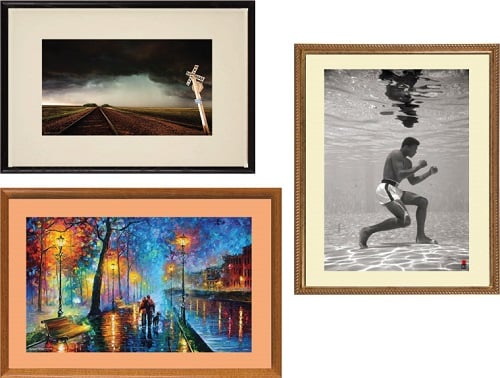 Head over to our Mat Designer site and make your photos look impeccable immediately.