When you hear the term DIY frame you probably think of constructing a frame or repurposing a frame. But what if we told you that we have a different kind of DIY wall frame? One that is all about you breaking out your crafting skills and getting real artsy? Our Decorate-It Picture Frame Series is perfect for all kinds of decorating, and can even be a fun project for children!
What are Decorate-It Frames?
Decorate-It frames are unfinished, unpainted wood. This makes it super easy to paint on, glue on, wood burn, or use anything that you might want to on them. They also come in 3 different widths so depending on what you want to try, you can choose which one works best for you!
How can I use them as a DIY Frame?
Some of the most common ways to decorate these frames is painting, staining, doodling on them, using stickers, or gluing interesting objects to the frame. You and your children have the opportunity to paint these frames in any way that you would like. You can paint colored blocks, floral borders, or even splatter paint.
Another artist take on these frames is doodling or drawing onto the wood. A unique drawing of random shapes and figures is going to look awesome anywhere that it ends up. You can use it to frame photographs of friends or family. Or you can use it to frame something simple and make the frame itself the focal point. Either way, you can't go wrong and you are sure to love what you made!  One of our personal favorites is gluing objects to the frame. Such as sticks found on a spiritual hike or all the corks that you and friends saved from wine night. This gives the frame an eye catching 3D look that looks great framing a photo or even hanging empty.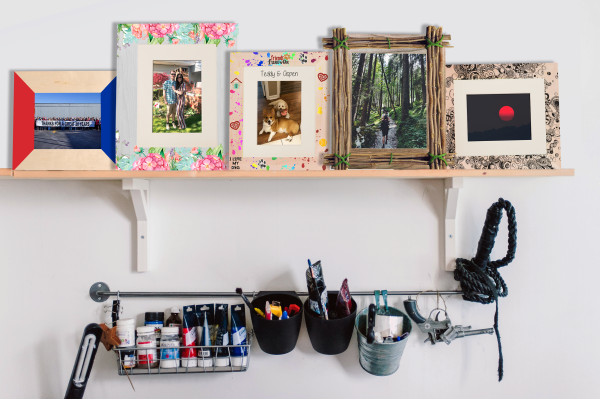 Whether you want a DIY wall frame for you or your children, the Decorate-It Picture Frame Series is going to be perfect for you! Your kids will love using it for their craft project! And you will have a blast transforming this unfinished picture frame into a masterpiece to display!
But don't forget to send us photos of your picture frames displayed for all to see!