To mat or not to mat? That is a valid question when putting art and photos into picture frames. How do you frame a picture with a mat? When should you use a mat? What color mat should you use? Do I need acid free matting? There are no wrong answers (well, when it comes to mat measurements there can be wrong answers) to these questions but there are some typical things that people tend to do that might be helpful if you're wondering what you should do about matting your piece before framing it. So let's do a quick, easy-breezy run down of some common mat ideas.
WHEN SHOULD YOU MAT?
Not every picture you put in a frame needs a mat. If you just want to pop in one of the kids' 5×7 or 8×10 school photos into a picture frame of the same size, and you're just going to change it out the following year–those probably don't need matted. Matted photos are usually ones that you plan on keeping framed indefinitely and that you want to give a little extra oomph to. The purpose of a mat is to give the picture some extra space in the frame so that you can use a larger picture frame to add dramatic weight to whatever the artwork is that you're framing. A family portrait that you're hanging in the living room, or a special art print that you've purchased and want to put in a nice, righ frame. These are the typical kinds of pictures you want to mat. Of course, you can mat anything you like but if you're wondering, "Does this need matted?" this is a good rule of thumb.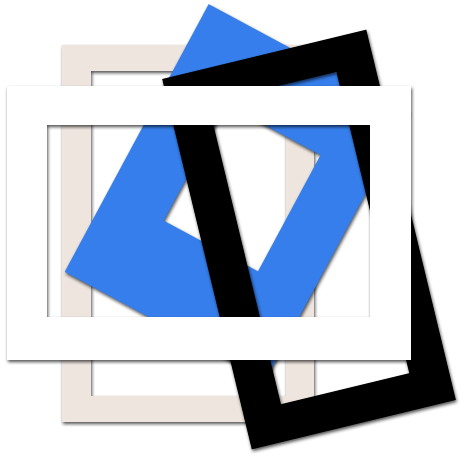 Also, when you have a piece that is an unusual size but you'd like to try and get it into a standard sized frame–that is a time you'd want to get a mat. The mat will go to the inside edges of the frame and the opening then can be centered and made the size of the piece. The only caveat with this is that the vertical sides of the mat may be different than the horizontal so that one dimension has more space than the other, but this is a solution to that problem.
WHAT SIZE MAT AND OPENING SHOULD I GET?
Again, with sizing, there is no one right thing to do. If you're basing the size of your frame on the size of your mat you start with the mat width. That is how much matting you want around your photo or art. A good safe, round number is 2″. A lot of people use this number. It's not too much matting or too little. If your photo is small-ish (5×7) and you don't want the frame to be much bigger, you can drop this down to 1″. And of course if you're going for a certain look where you want a lot of space, or just a thin edge, you can do those too. The thinnest you can go, however, is 3/4″ because you must account for the lip of the frame taking up a little on each side. And speaking of accounting for the lip, you will also want to take into consideration making your mat opening slightly smaller than your piece (unless your piece has already built in a border around it to accommodate matting–in which case you can make your exact image size the opening size). For this example we'll assume your piece has no border. You need to make the opening at least 1/4″ smaller than your actual paper or whatever physical medium your image is on. This is so the piece has something to fall against when put up to the opening and can be taped to the inside of the mat. We recommend 1/2″ total (which works out to be 1/4″ per side because there are two sides). Once you have your opening and how wide you want your mat, you can come up with your outer dimensions. Again, because the lip of any frame will take up a little of the mat, it's nearly impossible to get the exact amount of space (unless you have the frame in hand and can measure the lip exactly), So for example, if your piece is an 11×14 photo and you want 2″ of matting you would:
Take 11×14 and remove 1/2″ from each side to get 10.5×13.5. This is your opening size. Then add 4″ to each side (this is taking both sides into account) to get 14.5×17.5. This is your outside dimensions and the opening size of your frame. Or, if you want a standard sized frame, a 16×20 would give you about 3.25″ of matting all the way around.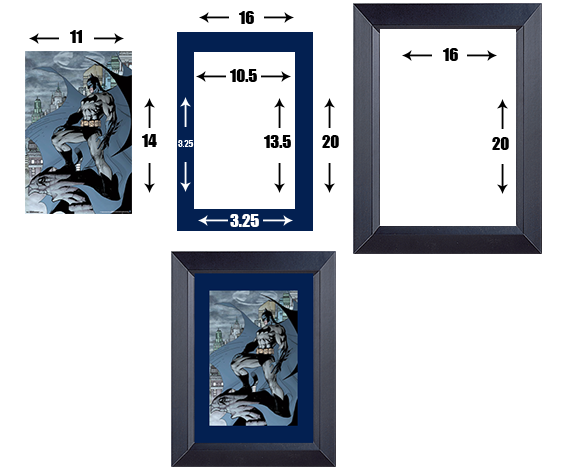 SHOULD I GET ACID FREE?
Most paper products contain some acidic chemicals. The amounts are minute, but over time they can discolor or damage a piece that they've been attached to for a long period of time. If the piece you're matting and putting in a picture frame is not particularly special to you or is not valuable or will never be removed from it's frame then you can probably safely use any standard or premium mat. It takes a long time for any damage to occur, if it ever does. However, if the piece is a one of a kind, a limited edition or something with sentimental value, you may want to consider acid free. Acid free mats are a little more expensive and don't come in as many colors but they will not mar or damage your piece, even after years and years. If you are going to choose an acid free mat you'll also want to be sure and affix your piece with acid free tape.
There are a lot of other questions that can go into matting; multiple openings, double and triple mats, color choices and textured mats. When you have specific questions about matting, you can always call the customer service department at Frame USA (800-577-5920) or live chat them through the website and they will help you choose and size the right mat for your piece. You can also use our Design-A-Frame service to do a step by step process that shows you what the mat and frame will look like (and you can even upload an image and compare it against your wall color to see how it will look) to make things even easier. Or if you know exactly what you want, feel free to go straight to Mat Designers and put in an order.
Matting may seem complicated once you get into it, but don't overthink it and always ask questions. Your framed art piece will be better for it.