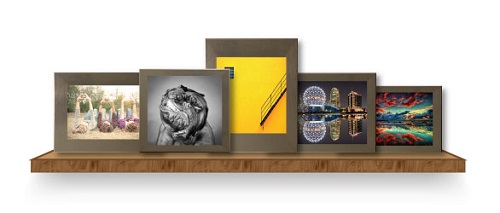 Our stainless steel photo frames add a refining touch to any piece of artwork or photography you're looking to frame. The Stainless series is a wood composite picture frame that features a finish that resembles a stainless steel look. This series is offered in two widths: narrow and wide. These stainless steel frames are made in the USA from eco-friendly Bonanza Wood and can be laser-engraved. Our stainless series is a timeless style that compliments art prints and black and white photos, no matter where they're placed!
As noted above, the steel picture frames can be engraved for a more personal touch. Laser engraved stainless picture frames offer personalization and corporate marketing with the highest-quality possible. We can laser engrave your team or company logo directly on many frames, the glass, or your matting. We also laser engrave metallic adhesive plates that can be mounted just about anywhere. Engraved frames make a great gift for family, friends or work giveaways! For more information and detail about how our laser engraving process works or the specifics of what can be engraved, contact our customer service department at 1-800-577-5920 or email us [email protected]
Not only silver, but you can also get a stainless steel frame in gold. So head on over to Frame USA, Inc. your one-stop secure online shopping place for a wide variety of Ready-Made Picture Frames. We're proud of our products, our service, and the way we stand behind what we do. We guarantee you'll love our Photography frames. And you'll love the way we treat you at Frame USA!