Displaying all your photographs of beloved memories can be made much simpler with collage photo frames. Good times with friends and family from years ago displayed all together is a great way to cherish your memories and reflect on fun times. Here at Frame USA we have collage picture frames in all different shapes, sizes and picture capacities. Very few things are more aesthetically pleasing than your own collection of pictures. Spruce up each room in your house with one of our wide selection of collage photo frames, you'll be able to find an option to hang in your bedroom, family room, or any other room in your home.
Capture your child's first year with a beautifully arranged, multi-window photo frames. The overall mat dimensions measure 16×16″ and includes 12 openings for 2.5×2.5″ pictures as well as a larger, heart-shaped opening for a 4×6″ photo. The mat is available in five colors: red, purple, raspberry, blue and grey. The Frame has three color options to chose from: blue, natural and white.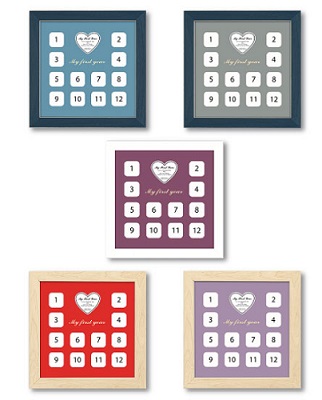 Show off your child's school years all in one place. These collage photo frames are available in 3 frame options (black, walnut or mahogany) and two different sizes (a 12×16″ vertical frame or a 10×24″ horizontal frame). Both collage picture frames include 12 openings for 2.5×3.5″ pictures as well as a larger central opening for a 5×7″ photo.
As with anything you place in your home, make sure it's something that works for you. In the end it's all about finding something that works for you and makes your home a more comfortable environment. Collage picture frames are simply one of the many ways to make an ordinary home extraordinary!