Thank you for visiting our site to learn about our vast variety of beautiful, quality-built wood picture frames of over 80 different varieties, sizes, profiles, widths, and colors. If you don't see the exact product you want, we can almost certainly make it for you.
Most of our unique wood picture frames displayed on our wood frames page are made of 100% real wood. We also have many frames that are made of an eco-friendly Bonanza Wood, which is a wood composite material. These eco-friendly series are clearly marked, and some of them are among our very best sellers.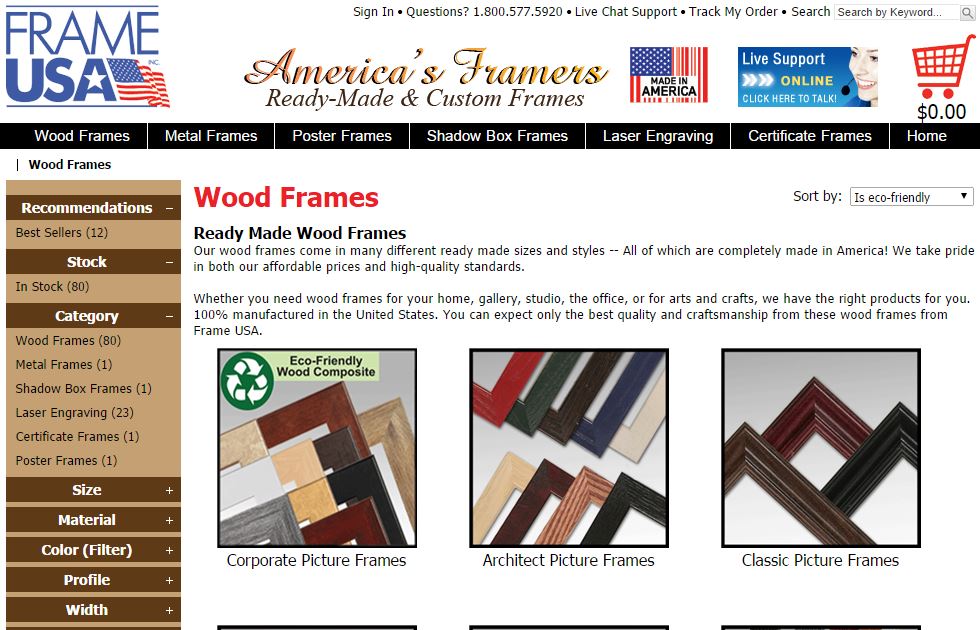 Real wood frames are unmarked, and our eco-friendly/recycled wood frames will have the green Eco Friendly logo on the top-left. Not sure about a specific frame series? Ask!
All of our wood and metal frames, poster frames, shadowbox frames and jersey frames, and certificate frames are made in the United States. We build them and ship them directly to you from our large manufacturing / warehouse facility in the Cincinnati, Ohio area. If you look at our home page during normal production hours, you can click onto a link near the bottom-right of the page and watch us manufacture the frames that will look great in your home, office, studio, showroom, hotel, or restaurant.
The frames you buy from Frame USA come to you fully assembled with sturdy backing, glass or styrene, and hangers or easels, depending on the size of the frame. We carefully package and ship our frames directly from our centrally-located facility.
When you receive your shipment from Frame USA, you won't need to get out your tool box and start reading assembly instructions. You won't need to buy glass or a clear styrene sheet to protect your art, photo, print, or other piece you want to display. All you have to do is place your artwork in the frame and put it on display.
Our goal is to provide our customers with the best quality American made picture frames we can build, at the best prices we can offer, and deliver them to you on time, in excellent condition.
When you finish ordering the wood picture frames that are just right for your use, don't forget about our many varieties of metal frames, poster frames, shadow box frames, and special frames for diplomas, licenses, awards, certificates, and other important documents.