I think it's a fair question to ask what an employee of a great frame and poster company would choose to hang on the walls of their own home, I mean we are the experts, right? (Fun fact: We are!) Of course, what attracted me to this company in the first place was my love for art, so of course I also enjoy decorating my own apartment. I would like to share what I've chosen to frame on my own walls, whether it came from Frame USA and Art & Canvas, (which have obviously been great enablers in terms of what I choose hang up), photos of my own, or even my own artwork.
It's tough to choose the favorite thing I have up, but ultimately I would have to pick my wedding photos, (Okay, so maybe it's not that tough) which I had framed at our retail store earlier this year. They came out amazing and I get compliments on these all the time.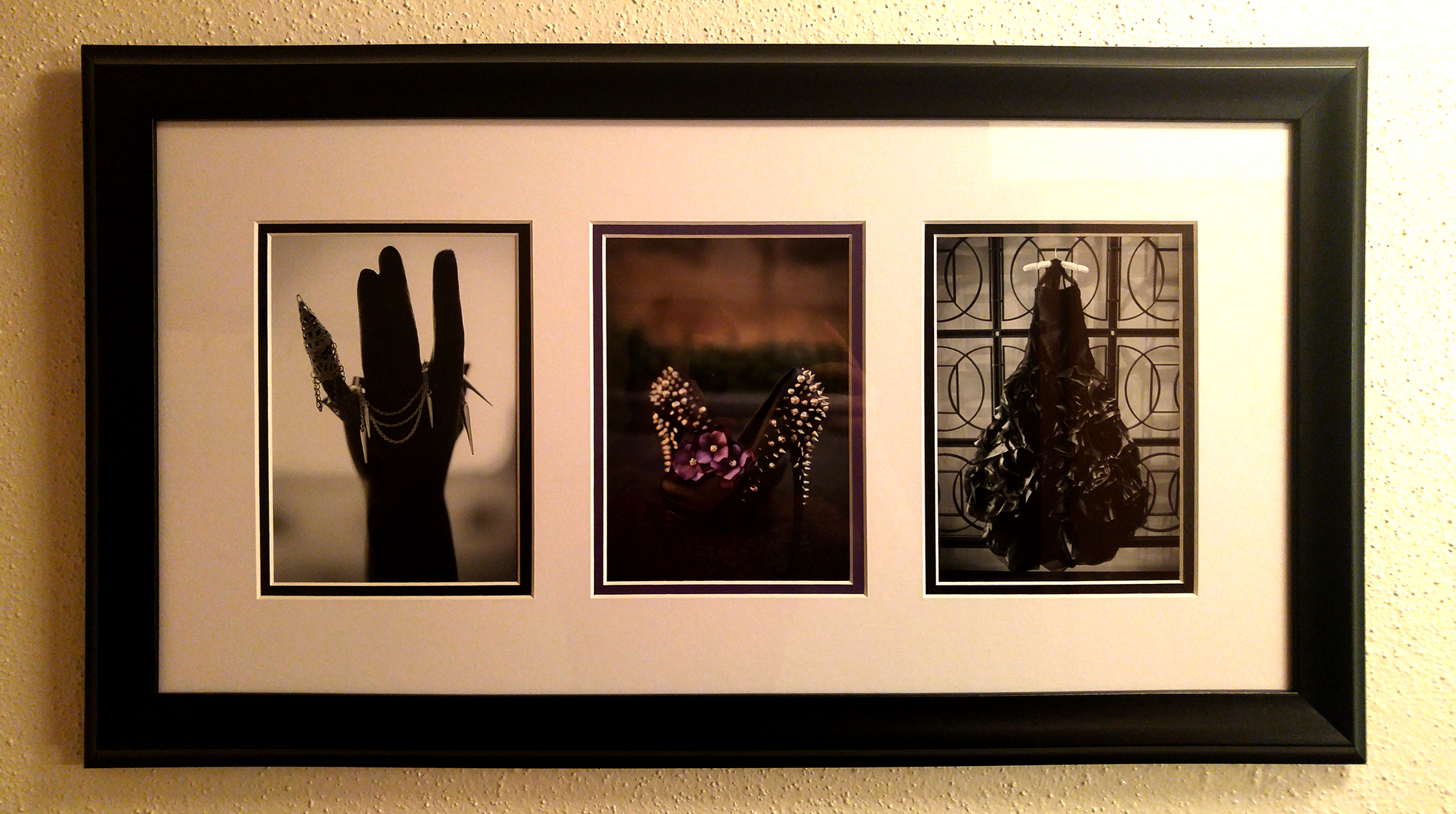 Above our fireplace (slash beer shrine) I have a copy of a Cincinnati skyline print that we gave away to customers and employees here at Frame USA to celebrate our retail store grand re-opening back in 2013. Besides being a stunning shot of my home city, this image is also pretty special to me personally, as I was the one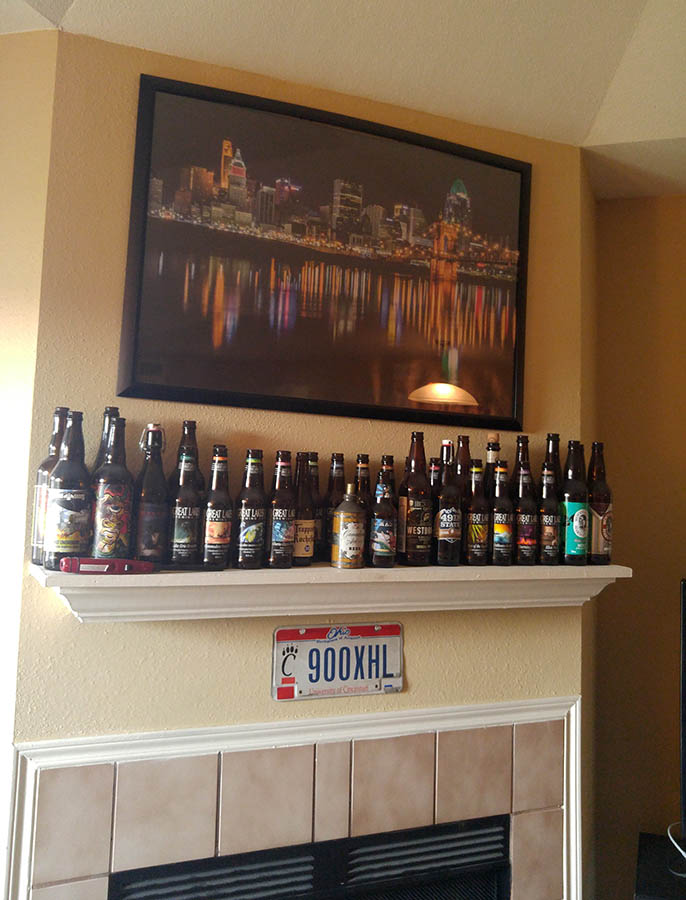 who communicated with the artist Keith Allen to get him on board from the project. Below the mantle you'll also notice the license plate from my last car, which sadly was totaled last year (RIP Car), luckily I came out of that fine, but decided to keep a little memento, because why not?
Speaking of beer… here is the arrangement we have behind our couch in the living room. (Noticing a theme?). My husband and I really love the craft beer theme, and even homebrew our own beer.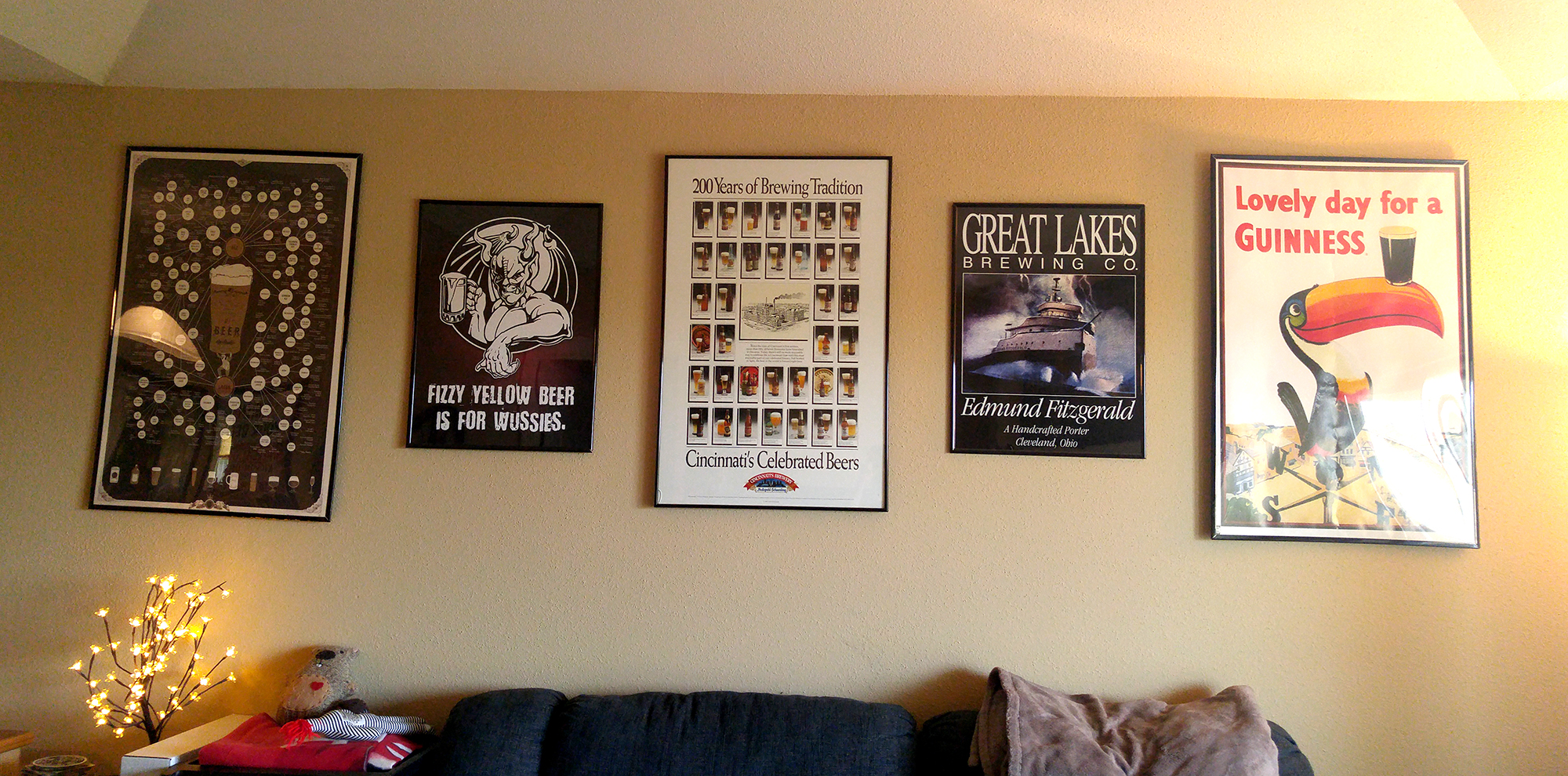 I also don't mind framing some of my own artwork, including one of my pieces from my senior thesis project
at UC – DAAP. This piece, "Fibers" is illustrated on stained wood!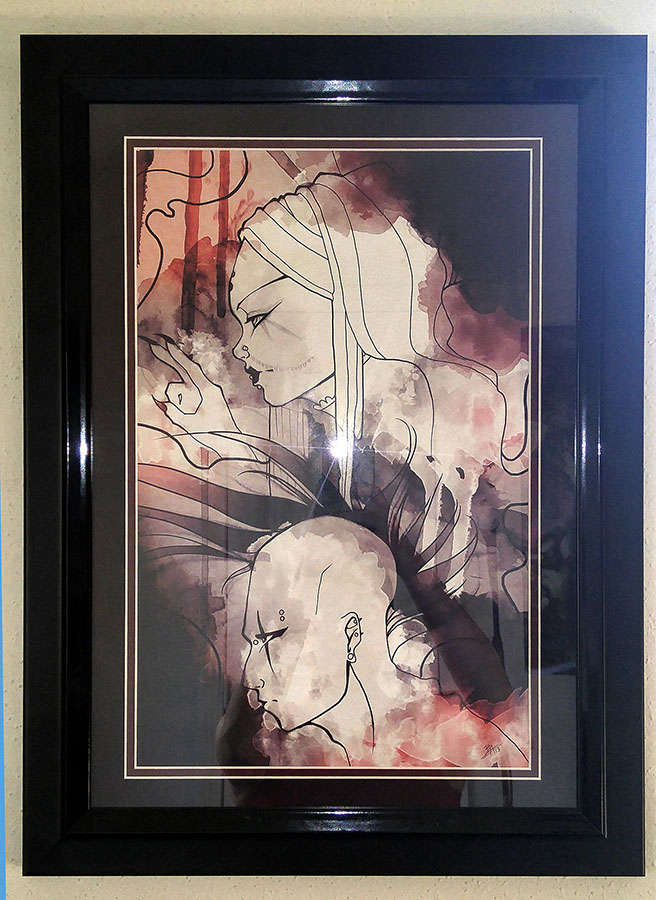 Another drawing of mine is hanging in our computer room, and sports a wicked awesome wood picture frame courtesy of the Frame USA custom framing team.
This isn't technically on a wall, but on the door to our bedroom. I cut this Legend of Zelda logo out of contact paper and placed it on the door. I really enjoy creating unique wall art like this.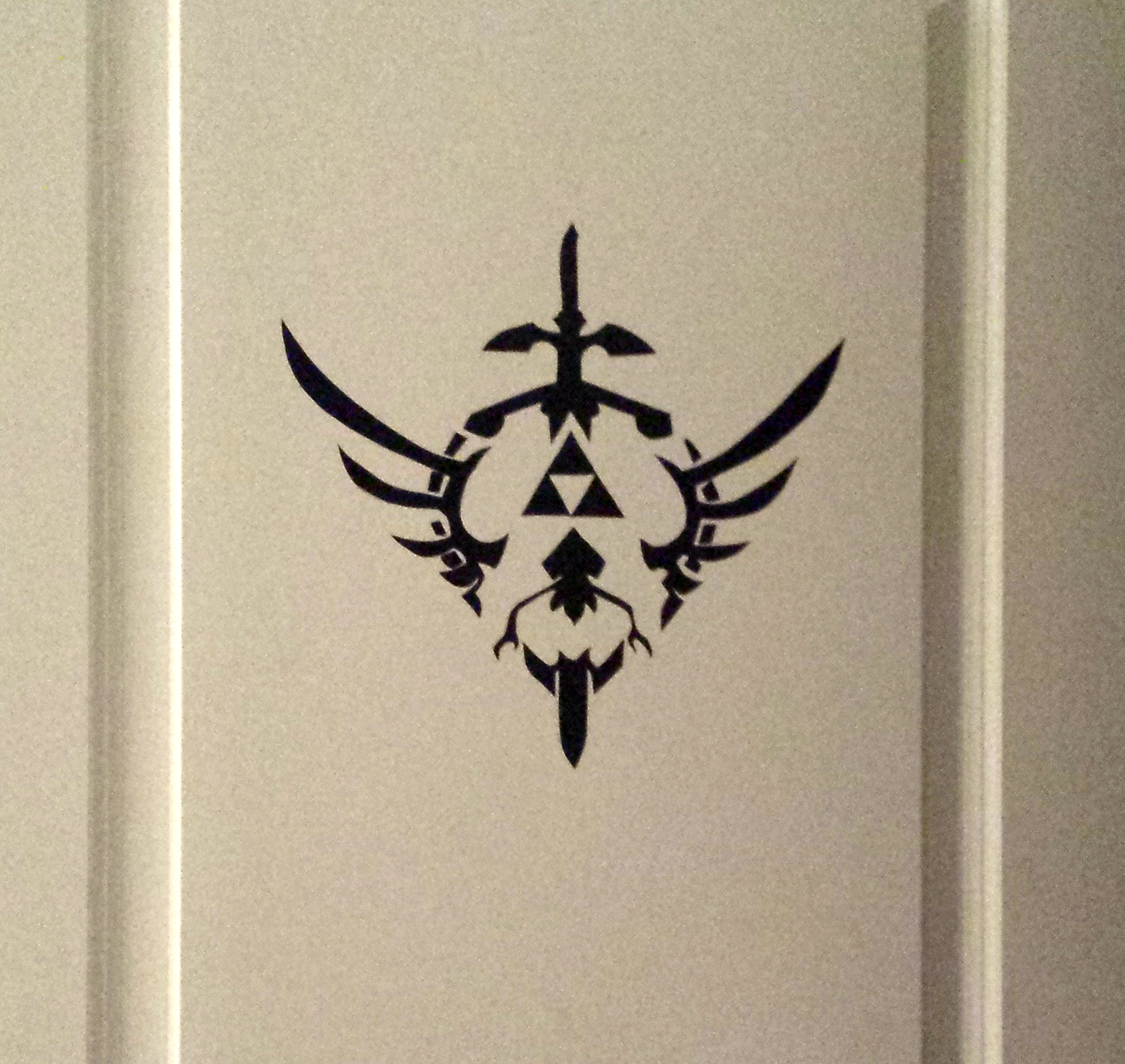 The next one I guess you could call a combination of my own artwork, and a Frame USA/Art & Canvas project. I designed this 'Shots!' poster for the Art & Canvas line in 2014, since then it has taken off and can even be found in Spencer Gifts stores throughout the nation! So naturally I had to have a copy of my own.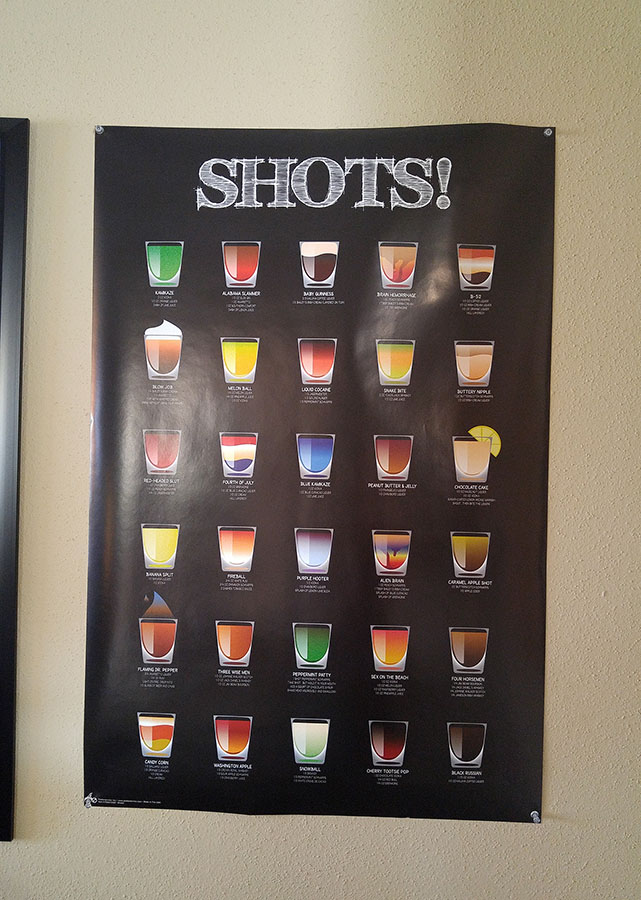 While that is not everything I have on my walls and frame at home, those are for sure some of my favorites! (And some of them would not be there had I not started my career at this company.) I think the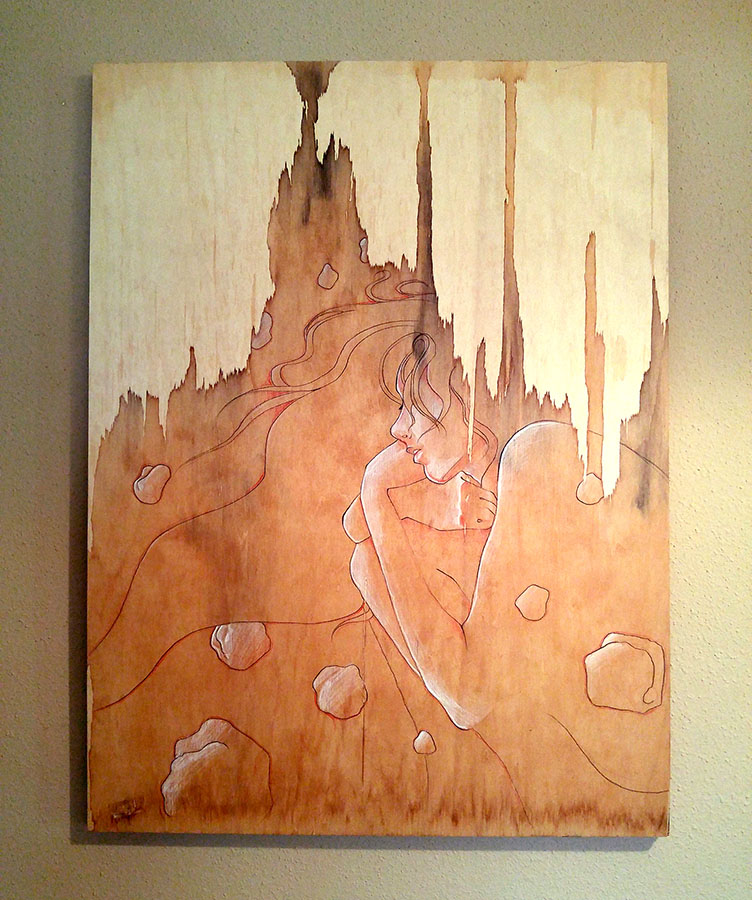 best rule to follow when choosing what to put on your walls is, have FUN!