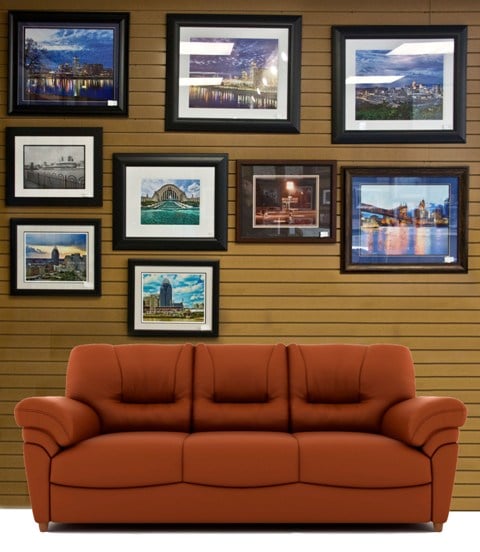 In the last post you learned three very important tricks to turn any space into an art gallery, but those are not the only tips we have up our sleeve. We're back to give you three more that will sure to make your space transform from boring and uninviting into a space that's intriguing and exciting.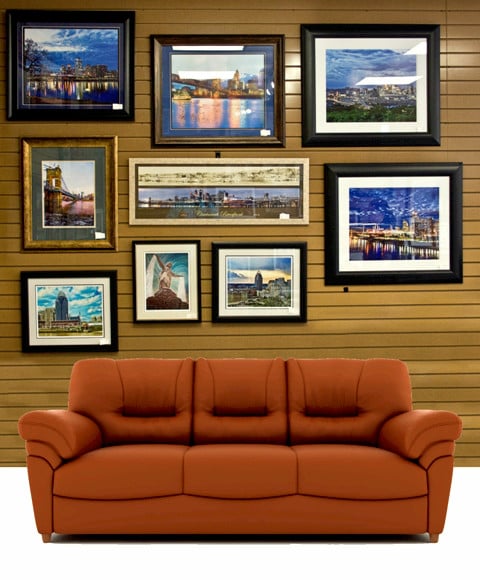 Our third tip to creating a custom gallery wall is SPACE. When you are planning your arrangements, make sure you allot for space in between the frames. Having enough space between each frame is crucial when it comes to creating a picture collage wall that is intriguing. Now, the amount of space given is generally personal preference.  In our experience, we generally recommend leaving about two inches between the outer edges of frames. This gives enough space to allow each individual picture to stand out on its own and still be a crucial part of the collage. Less space can be utilized when the frames that you are using are either the same size or the same shape. If you're using the paper method to lay out an arrangement, make sure that the space you decide upon still works once you have selected your frames.
Once you have your arrangement planned out and the frames you're going to be using, the next step is to decide which pictures should be placed in which frames. A successful gallery wall may have a variety of different images, however, in order to provide a cohesive look, we recommend GROUPING BY THEME. What we mean by this is look at the pieces you want to display, group them together on your wall based on the subject. Even if you've chosen a variety of different mediums, i.e. photographs and paintings, the groups that you create will tie together an arrangement
When you've decided to do a picture collage wall but don't exactly know all of the pictures that you are going to use, our tip is to STAY CENTERED. Once you've gotten the arrangement that you want, start by hanging the picture that will go in the middle of the collage then work your way out. Every stable house starts with a basic framework; a successful picture collage is no different. Once that central picture is in place on the wall you can always come back and add around it once you've found pieces you want to hang.
Now that you are equipped with the tools and tricks that we've gathered along the years, go and make your art gallery space picture perfect. Don't forget to take pictures of your collage walls and share them with us! We love to see how our customers utilize our frames!