If you are looking to put your collectables into Shadow Box Frames, then Frame USA is the right choice for you. We offer three different Shadow Box options that are all guaranteed to enhance your prized possessions. All of our shadow box picture frames are made exclusively in the United States in Cincinnati, Ohio.
Shadow Boxes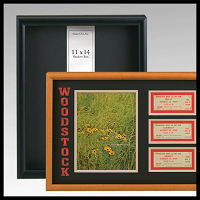 The Elite Shadow Box Series is perfect for keepsakes, medals and smaller items. It specifically works well for tickets, programs and in many cases albums or cds. The Elite line comes in 4 colors: Black, Honey, Cherry and Unfinished. The depth of the moulding opening is 15/16" high, so make sure the item you are framing does not have a lot of depth to it. The elite series comes complete with a hanging packet to make sure the product hangs nicely on the wall. If you have a shadow box project that has an important budget to meet, try our Elite Series for quality and affordability.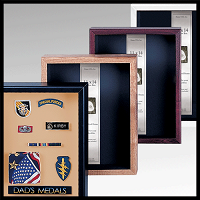 The Shadowbox Showcase Series is our favorite choice for Shadow Box Frames and an extremely great value! The frame comes in Black, Honey, Cherry and White and offers a depth 2 1/8." Making these deep shadow boxes perfect for framing jerseys, uniforms or anything else with depth to it. The most popular size is our 24×36 Shadow Box because it is priced extremely competitively and comes with a black foam core backing. The backing allows you to glue, or stitch your item directly to the foamcore which will save you time and steps in completing your project. The Showcase Series is a very impressive frame. Sizes 11×14 and smaller come with glass and larger sizes come with Acrylic.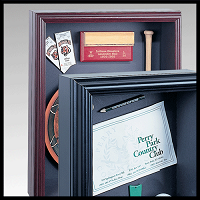 Our Boxer Shadowbox Series rounds out our line of American Made Shadow boxes. The finish on the Boxer is premium and highly consistent. It is a "wrapped" finish as opposed to the real wood finishes on the Elite and the Showcase Series. The beauty of these deep shadow boxes is that they can be built on top of each other to come up with virtually any size depth. The other nice advantage of the Boxer is that you can specify white foamcore or black foamcore as a backing. The black and mahogany finishes in the boxer series will compete against the best shadow boxes you will find anywhere in the United States. Just contact our sales department at [email protected] if you have a special project that needs quoting.
Looking for Bulk or Volume Ordering?
So as you can, Frame USA is your one stop shop for all of your Shadow Box and framing needs. If you have a large project that needs kick starting, let us help you by putting together a custom quote for you. You can access our volume quote form here, so stay tuned for our upcoming article that will provide more details on our custom and volume quotes and what other products Frame USA has to offer to you!