Retail Custom Framing VS Build A Frame
Framing is expensive and time consuming, with so many options it's hard to find the right frame for the photograph or art that you are trying to frame. Having that piece be an odd size will make it even more expensive and time consuming.
There are so many online retailers out there that sell ready-made frames, including Frame USA, but very few that offer the option of purchasing completely custom made picture frames. Most online frame companies don't offer the option because it's hard! Custom framing by nature is so personal and requires a lot of back and forth between the customer and framer. There are so many options that are offered in your brick and mortar stores for custom framing, which are just not realistic for online companies.
We admit that the options available on our Build a Frame are nowhere near the options available in our retail frame shop, with that being said, Build a Frame is one of the best options for online custom picture framing on the market today, from our perspective in the industry as well as the feedback we've heard from customers who have used it.
I was curious how Build a Frame matched up, price wise, with your traditional brick and mortar retail custom framing, so I did some research. I thought I would share my results for those of you who are skeptical of our Build a Frame.
During my lunch this past Friday I took a field trip to two very well known frame shops here in Cincinnati. These two frame shops feature a lot of advertising and newspaper ads and are known for their crazy sales so I thought I would see how our Build A Frame Matched up to them.
I went to these two frame companies and ask for a custom framing quote for an 8×10 picture with a double mat in a simple 11×14 black picture frame. This is a standard picture frame size, but it is often used as the beginning of a custom order.
Here are the quotes:
Retail Custom Framing Competitor #1
When I went into this frame shop I was actually worried that my results would not work out in our favor— they had a huge sale going on where everything was 50% off and then you were able to take an additional 30% off that sale price. The price for my 8×10 picture with a double mat in an 11×14 black picture frame with standard glass backing and assembly which included a wire hanger was $75.62. I saved a total of $131.56; I don't want to imagine what the cost would be without that sale.
Retail Custom Framing Competitor #2
My lunch time was coming to an end rapidly so I decided for this next shop that I was going to call and get a quote. The price for my 8×10 picture with a double mat in an 11×14 black picture frame with standard glass backing and assembly which included a wire hanger was starting at $70. That means that there is a chance that it could go up depending which picture frame molding I went with.
Our Custom Framing tool: Build A Frame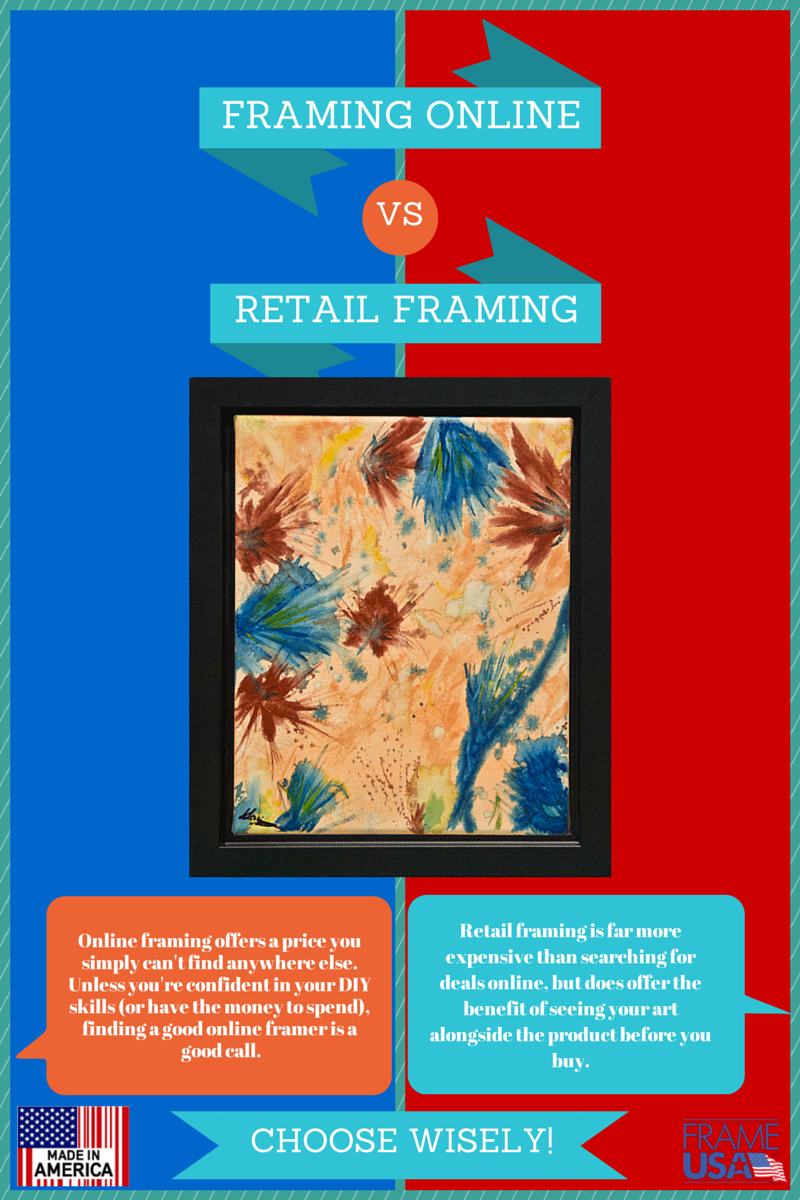 So using Build A Frame I priced out myself exactly what I asked the two frame shops for. Since this is an Online Custom Framing tool the convenience of not having to stand in lines or even leave your pajama is there. The total including shipping and tax since I was shipping it to my home in Cincinnati was $51.23 without the tax for those of you who are not having it shipped to somewhere in ohio would be $47.99
Using Build A Frame would save me around $24.39. Want to know what you could buy with $24.39?
Miracle Berry Tablets—alter your taste buds for an hour so anything sour tastes sweet
LifeStraw- drink from any water source and have filtered clean water to drink from
Rock-It— it turns just about any surface into a speaker
Bubble-Calendar— a calendar made from bubble wrap that you get to pop every day
A new pair of shoes
Two Chipotle Burritos
I could go on but the point is not only does Build A Frame have all the convenience of shopping online ( no lines, no leaving your bed) but it also saves you money, So unless you have a really complex custom framing job, give Build A Frame a chance, it won't disappoint you, or your wallet!