We are often asked what our most popular standard picture frame sizes are. We thought we would bring it back as we enter into the holiday season as a resource for you as you purchase picture frames. Enjoy!
Most popular frame sizes
We are often asked what our most popular picture frame sizes are. It is first important for us to clarify how our sizes work in general. Here is the list of all of the sizes that we consider to be standard frame sizes: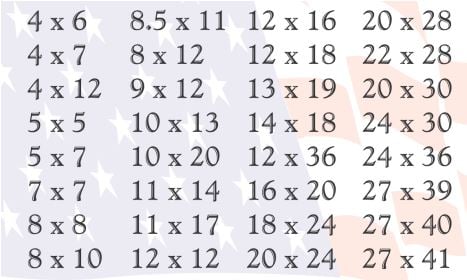 In our experience, these are the most popular and most utilized sizes overall. These sizes cover a wide range of photograph sizes, poster sizes, art print sizes, and many other common sizes we see every day. Our most popular standard picture frame sizes are:
5×7
5×7's are a very popular frame size because so many photographs are printed off in the 5×7 size. 5×7's are the perfect size to display your photos on a desktop at work, home, or to give a precious memory to someone close to you.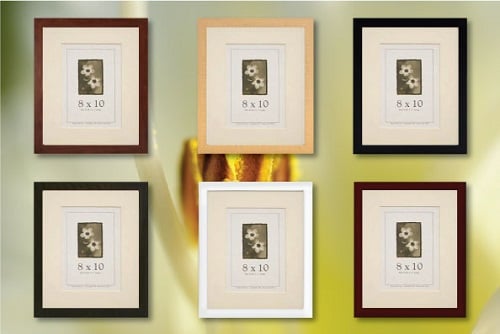 Frames with a smaller molding such as our Corporate Thin series are great but don't be afraid to go with a wider moulding such as our Bistro Series
8×10
Our 8×10 picture frames are top sellers at Frame USA. Once again, 8×10 is a common photo size, but it is also a perfect frame because it includes a mat. Our 8×10 frames come with an off white mat for a 5×7 image, allowing you to mat your 5×7 picture to help highlight your memories.
8.5×11 Frame
8.5 x 11 frame is a popular size for documents and certificate. Check out our wide variety of specialty diploma picture frames or our very popular certificate series. But all of our wood frames and metal frames can be used for documents,diplomas and certificates.
11×14
11×14 frames also include an off white mat but for an 8×10 image. Many of our customers love this size because they can use the frame with the mat, or remove the mat and highlight their 11×14 photographs. Our picture frames all offer this versatility, making Frame USA's picture frames perfect for any occasion or event.

Some great frames in this size would be our Architect and Corporate series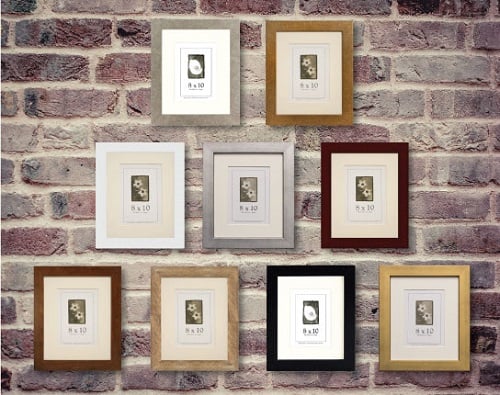 16×20
If you are looking for a medium sized picture frame, the 16×20 size is a great choice. Our 16×20 picture frames include an off white mat for an 11×14 image. This option provides just over 2" of matting on each side of your image. This is a great size picture frame because you can make it a highlight piece on your wall, or part of a mixture with other frames to form a collage on your wall.
This is a great size to go with a wider picture frame such as our Verona Wide Series.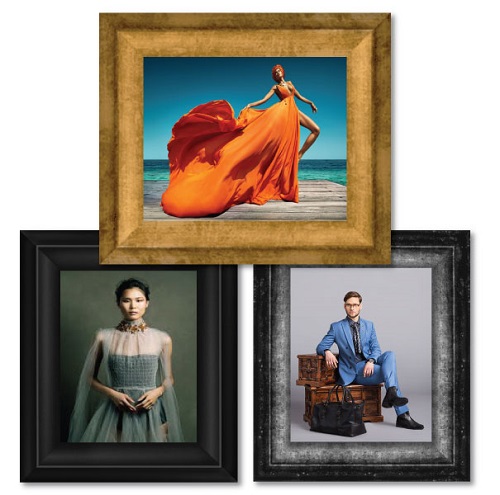 24×36

Our largest popular picture frame size is our 24 x 36 size. 24 by 36 is the main size that most posters that are sold come in. Therefore if you are looking to frame a poster for a dorm room, your office or house, or to give as a gift, this is the perfect picture frame size for you.
Plaque-mounting your image is another option that would work well, which is basically a way to display an image without a frame. (They do get considerably heavier with size, though!)
Know the size of your fine art but not sure which frame you would like to order? Purchase a sample!
When choosing the best picture frame size for you, always make sure to measure your image first. All of our common photo frame sizes are based on the inside dimensions. Therefore if you have an 8×10 image and do not want to use the mat, you still want to order an 8×10 frame. If you have an 11×14 image and do want to include a mat, it is important to order a larger frame size to accommodate this.
Now the question is what is a custom size frame? A custom size frame here at Frame USA is any size outside of our standard 32 sizes (refer to the chart listed above). We can produce almost any size frame your heart can imagine. Our only limitations come into play with the width of the moulding- the thinner the frame, the smaller the maximum size will be.
We hope this article on our most popular picture frame sizes has provided you with all of the information you may need when ordering our picture frames. If you ever have any other questions, please feel free to contact us via Email at [email protected]. We look forward to hearing from you!