Posters are a great way to punch up any room and inject it with some of our own style and identity. Movie poster, music poster, art prints, there's all kinds of choices you can make. But once you have your posters unrolled and in your house, what's the best way to display it? There are as many different kinds of poster frames and framing options as there are kinds of posters. What's the best one to hang your brand new Led Zeppelin or Resevoir Dogs poster? At Frameusa.com we have some great solutions to your poster frame need. In this newbie's guide, we'll tell you how to pick out high-quality poster frames.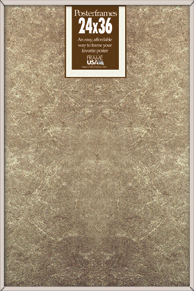 First, you need to know what kind of poster you're hanging and how important it is to you. Is this just a simple 11×17 boy band poster for your niece's birthday that she'll outgrow in two years or so? Maybe you're looking for a cheap picture frame, something that goes above and beyond just handing her a rolled poster to tape onto the wall, but that is inexpensive. We have three options that are meant for this situation. Our Corrugated Poster frame, Foam core Poster frame and  Hardboard Poster frame.
These three frames are our basic poster frames. They have four mylar frame sides with mitered corners that "slide" or "snap" to the backing and styrene to hold the poster frame together. You put your poster on the backing, put the styrene on top of them and slide your sides on. It's very easy and quick. You can choose from three different backings as well, which are the corrugated cardboard, foam core and hardboard. The cardboard is the most inexpensive option but not as durable or long lasting as the foam core or hardboard (the hardboard material is masonite). These frames come in a variety of colors and sizes.
Maybe you're not framing a poster for your niece though. Maybe you're putting motivational posters in frames for your office. You need a large quantity of 24×36 poster frames to show off your inspirational images and they need to look nice but at a cheap picture frame price. For this kind of project I'd suggest our Deluxe poster frames. They come in 3 colors (Black, Gold and Silver) and all of our standard sizes. The frame rails are made from polystyrene with a slim, rounded profile so they have a sleek, professional look. The posters inside can be easily changed out and these frames will not hurt your budget.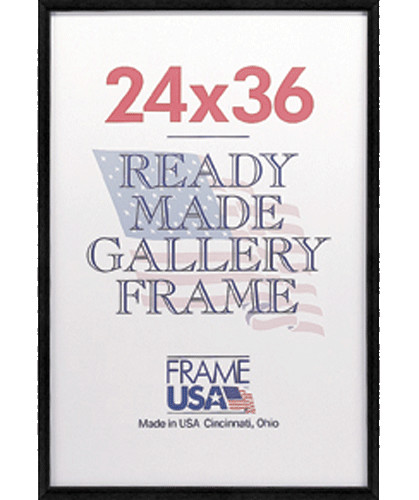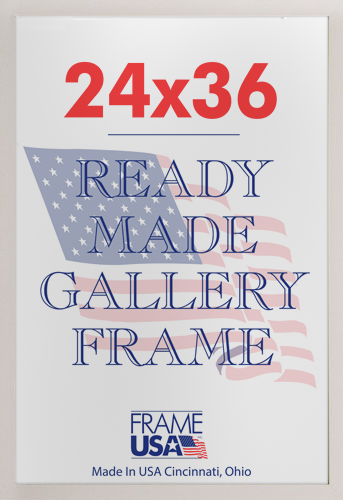 But you're not giving gifts to a niece or hanging posters in your office. You've gotten yourself a vintage, limited edition Bob Marley poster. You still want a simple plastic poster frame but you want one that's a little more physically substantial. For these pieces we recommend our Budget Saver Poster Frames or our Simply Poly.
These are both thicker moldings with a bit more heft and presence than the Deluxe or the basic poster frames. The Budget Saver comes in black and cherry and has a gentle beveled profile, whereas the Simply Poly comes in black and white and has a flat profile. These are ideal for your 24×36 movie posters and art prints. In fact the Simply Poly goes up to 27×41 for those hardcore movie fans out there who get the full size theater posters. Both of these are thick enough to use sawtooth hangers for hanging (unlike the Deluxe and basic which have hanging tabs stamped into their backing).
So whatever kind of poster it is your framing–something somewhat transient that will soon be replaced or something you want on your living room wall for years–we have a poster frame to accomodate you at Frameusa.