We've had requests for a product like this, and with the great success its had in our retail store, we decided to add a new ready-made product that's sure to be a hit! The picture frame is very large, as is the inside mat which is used to collect signatures. The best part is, the kit comes complete!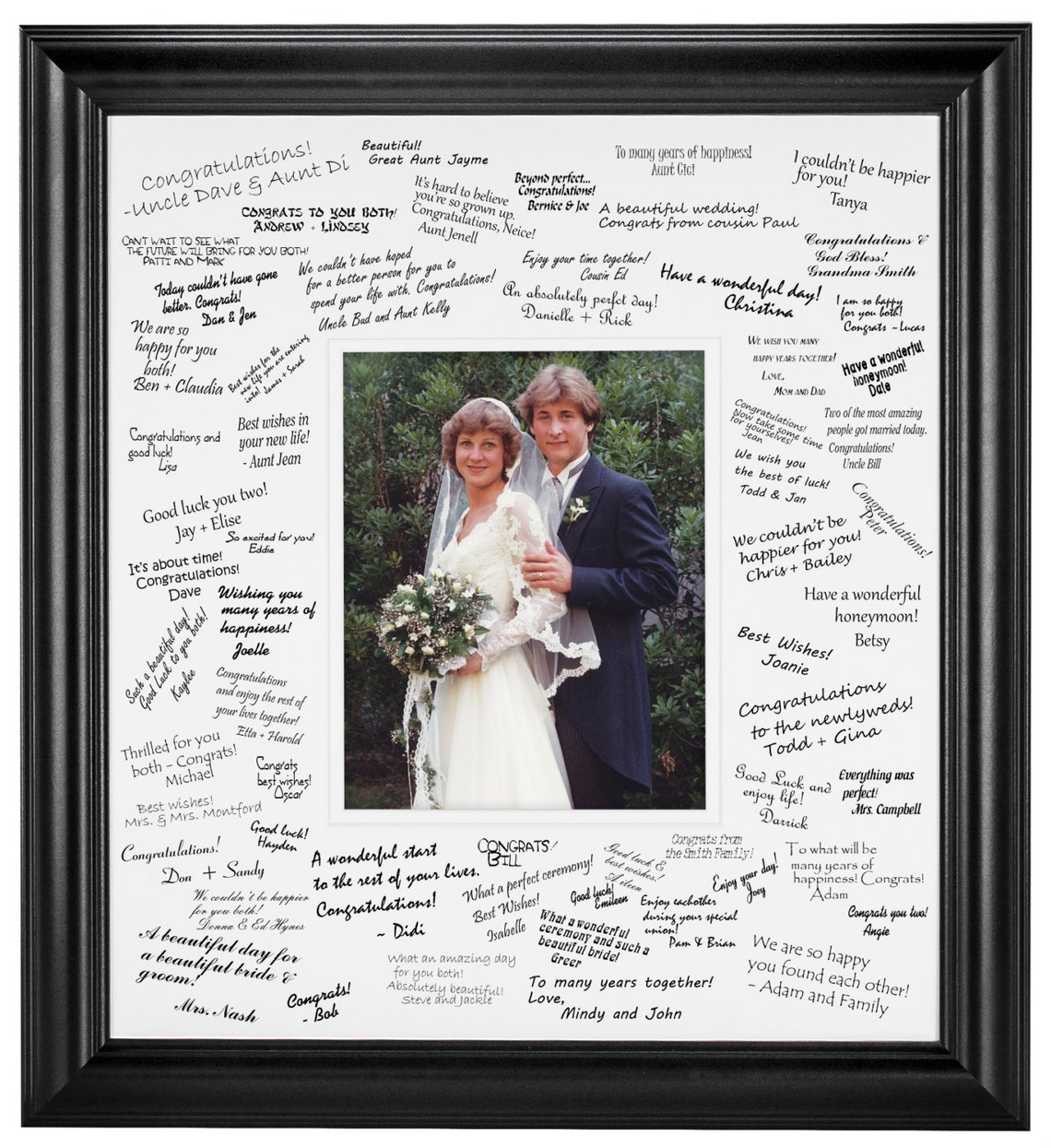 Like a guest-book that you can proudly display on your wall, our Special Event Signature Mat Set will give guarantee you memories that will last a lifetime!
From our E-bay pages:
Commemorate your special event with this signature mat set. Instead of your loved ones' well wishes hidden from view in a signature book; they can be displayed encompassing your photo. This 5" wide white mat will accommodate over 150 signatures and messages from your guests. The wire hanger is included but not attached, so you have the freedom to choose if your frame will hang vertically or horizontally. A beautiful 2.5″ wide matte black wood frame with a shiny inside lip handsomely adds the finishing touch. A comparable picture frame and matting at a custom frame shop would cost over $140.00.
What comes with this set:
1 Custom sized picture frame, mat opening suitable for an 8×10 or 11×14 photo.
1 White double mat; ACID FREE conservation grade so your signatures and photo will not age, fade, or turn yellow.
2 Signature pens; permanent black ink, smear and water resistant when dry, and acid free
1 Cardboard backer
1 Styrene front protective sheet; a lightweight type of plexiglass
1 Wire hanging kit
AND FREE SHIPPING anywhere in the continental United States
Instructions:
This frame is easily disassembled making it a breeze to use. Lay the frame face down on a clean surface. Bend flexpoints up away from the cardboard backing. Remove everything from the frame. Tape your photo to your mat and place your matted photo and the backing back into the frame (keeping the styrene safe for later). Push the flexpoints back down against the cardboard. After your event, open the flexpoints again and remove everything. Remove the protective films on the styrene and place it into the frame along with the signed matted photo and backing. Push the flexpoints once more down against the cardboard. Install the wire hanger and enjoy!
Find these new wedding and event photo frames for walls here!