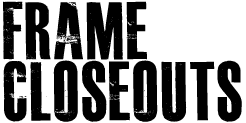 Sometimes a project comes up that requires you to get a lot of frames. Maybe a school arts and crafts day or an awards ceremony. When you have to buy for a large group, getting brand new frames can be a hefty expense. Sometimes you might need 50 to a hundred to even 300 picture frames for an event. If this is employee run or a charity or a PTA your budget is going to be limited and you need to stretch your spending dollar as far as you can. A great solution for this is buying closeouts from Frame Closeouts.
Framecloseouts.com offers a huge variety of wood picture frames, metal picture frames, and poster frames at very low prices. There are over 30 different styles and sizes and thousands of closeout photo frames to choose from.
These are frames that have been returned to us in great condition (maybe someone ordered the wrong color) or that we made too many of. Most of them are sorted only by size. This is because we offer a 24 hour turnaround on getting closeouts shipped out, from the time you place your order. This helps ensure they can be pulled fast. Our regular wood closeouts, however, are sorted by size and color. So if you need 50 gold 11×17 frames, you can choose them.
Because they are sorted this way, when you choose closeouts, there's no way to know exactly which style you will be receiving. This makes them ideal for gifts where they don't need to match each other, where each person is getting something unique.
So when you need a lot of high quality frames and cheap picture frames prices or if you only need a few or even one, but quickly, take a chance on Frame Closeouts. We think you will be glad you did.