How do I know what size frame to order? It's a question as framers that we hear all the time, and most times, the answer is easy.
All of our picture frames at Frame USA are based on the inside dimensions. Therefore, if you have a 12×16 image, you will want to order a 12×16 picture frame.
Awesome, that was easy, right? But what if I want matting around my image? Overall, that answer is pretty easy too. Adding matting to a frame will increase the overall dimensions of your frame. For example, if you have a 12×16 image and want a mat around it, your next decision is how much matting should I add? Our recommendation is the smaller the image size, the less matting you should add. Ultimately though matting is a personal preference so whatever you prefer or think will look best is the answer.
For a 12×16 image, I would personally recommend about 1.5" of matting. This will make the frame size 15×19 now. But wait, I thought adding 1.5" of matting would make the frame size, 13.5×17.5? That is a common misconception that we hear. However, to have 1.5" of matting on each side of your image, you are actually adding 3" vertically and 3" horizontally. So 12 + 1.5 +1.5 = 15 and 16 + 1.5 + 1.5 = 19.
While 15×19 is a custom size, ordering this is simple. The easiest way is to order this is through our Design A Frame feature: www.frameusa.com/design-a-frame.

Our feature offers just a few simple steps to getting you the perfect picture frame.

Through this feature, you can order your frame, matting, everything you would want!
Now what if you have a custom size image, but do not want matting? At Frame USA, we make that easy too. Almost all of our frame options: wood picture frames, metal picture frames, poster frames, etc. offer a custom option. First, select the frame you would like to order. Then once on that individual series page, you will find this: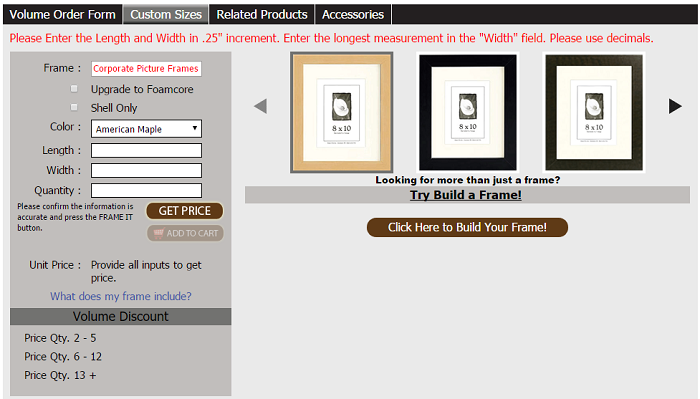 Here you can type in the size you need (your image size), change the color accordingly, and select your quantity. Our website offers lower prices on custom frames when you order more than one, so you will see all pricing options listed here. Naturally since we are more efficient the more of the same picture frame we produce for you, we pass those savings right on to you here.
So as you can see, figuring out what frame size you need can be quite simple. However, framing can be difficult for some so if you still have questions, please contact our Customer Service team at 1-800-577-5920 or via email at [email protected]. Our team is ready and happy to help you any way that we can!