When making the decision to frame a photo or a piece of artwork, you understand that the image and the frame combine to form a single unit. While the frame itself is important, so is the material that will cover and protect the image. Also called a "glazing" material, Frame USA offers glass, acrylic, and styrene covers for custom frames. But which glaze is best for your frame?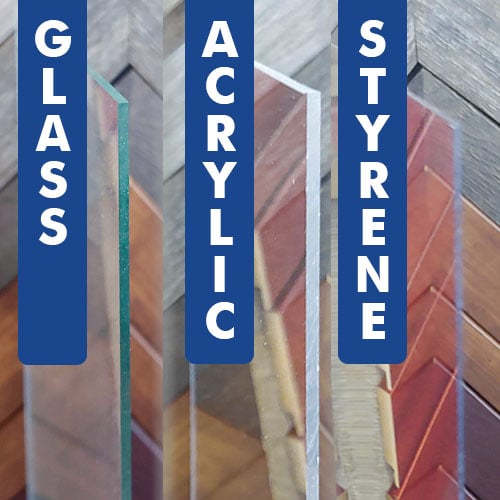 Glass
Glass is the most traditional glazing material for picture and photo frames, and is still thought of as the default for most people. Owing to its material hardness, glass frame covers are extremely scratch-resistant and graceful, providing a long-lasting air of class to any room.
However, they can also require caution. For one, glass is heavy. Very heavy in fact, particularly when it comes to frames of larger sizes. Not only does this make large frames with glass difficult to carry and hang, but the brittle nature of glass also makes it susceptible to shattering. This poses a risk of damage to your image and injury to yourself and others if not handled carefully. If your frame is being delivered by mail, this also raises the chances of being damaged in transit.
In short, while glass requires some precautions at larger sizes and in certain settings (a child's playroom, for example, might be a dangerous place for glass), it is still the de facto choice for many frames. For professional settings, or for smaller frames destined to adorn a desk or tabletop in the office or home, glass is ideal.
Acrylic
For framed pieces that need glass-like quality without the downsides of glass, acrylic covers are a great alternative – providing comparable levels of strength and clarity, but with higher shatter-resistance and only half the weight. Because of these properties, acrylic covers can be used in larger sized frames that would be prohibitive for real glass, making it a more versatile option. However, these perks come at a price, as it is usually the most expensive option available.
Styrene
In terms of pure cost-effectiveness, styrene is the best option for framing that you are likely to find. Comparable to plexiglass, styrene is relatively cheap and provides great benefits, but also presents some downsides that might hinder your framing project.
Styrene is the thinnest and lightest of the three glazing options and is FAR more flexible and less brittle than glass or acrylic. This makes it a versatile option for larger-sized frames, and greatly reduces shatter risk. On the other hand, lack of thickness makes styrene less resistant to warping and scratching. (For this reason, Frame USA applies a protective film on both sides of styrene sheets to protect it during shipping.) It is also important to remember that the chemicals in typical household glass cleaners are too harsh for styrene, causing deterioration over time. Make sure to only use a soft, damp cloth or a cleaning product intended for use with styrene.
All in all, while not the toughest glazing material available, styrene's lightweight and shatter-resistance make it great for large frames, frames ordered online, and low-budget projects like poster framing.
Click here to learn more about Frame USA's custom picture frame glazing options, or contact Frame USA to talk to an expert about your framing project!