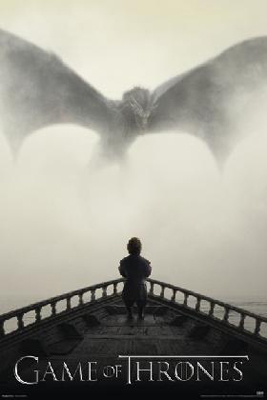 Game of Thrones is a TV show that has taken over the nation! Game of Thrones is an HBO show created by David Benioff and D.B. Weiss and is an adaptation of the A Song of Ice and Fire novels written by George R.R. Martin. The show first premiered on April 17, 2011 and its 7th season premieres this Sunday, July 16th and will conclude with its eighth and final season the following year.
Game of Thrones is set in the fictitious Seven Kingdoms of Westeros and the continent of Essos. The series is all about the struggles between the noble families and their fight to rule the kingdom and sit on top of the Iron Throne.
George R.R. Martin began writing the series A Song of Ice and Fire in 1991 and had the first book published in 1996. Amazingly, over 20 years later and Martin has only published five of the even planned novels in the series. Fans of the book have been in an uproar because finally the TV series has surpassed the book and will potentially ruin secrets that have yet to be revealed in the book.
Head on over to our sister site Art & Canvas and browse our selection of Game of Thrones posters so you can frame and hang your fandom. We know you'll be watching with us.