Try before you buy – Frame USA offers free quotes on Thousands of Products
If wholesale pricing or bulk ordering is what you're looking for, then we have the perfect free tool for you. Shopping for anything in bulk can be difficult, or when trying to find that perfect custom framing job without spending an obscene amount of money. We know as well as anyone – making a purchase without knowing exactly what you're getting is downright unnerving. We have a process of estimating orders and recommending products: our Special Volume Quotes.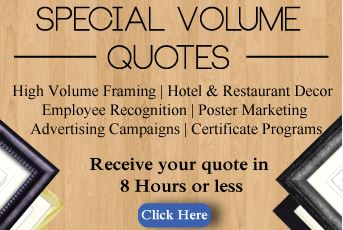 To request a quote on any framing need you have, simply fill out our custom quote form. What are the benefits to requesting a free quote as opposed to buying direct? Here are a few reasons:
You'll receive a reply within 8 business hours.
Custom quoting is a free way to know what you buy, before you buy it.
You won't spend a dime until you know exactly what you need.
Our representatives are trained to help you find the best framing options for you.
Receive the latest discounts and promotions when ordering online based on your quote.
If you have an item you've wanted framed for years, but don't know where to start, fill out our form and we'll help you quote a price. We also help with volume orders, wholesale requests and anything from posters to plaques — and of course, framing. Get a free quote on our picture frames!
Click here to get started on your very own quote!