As we start to close out 2022, we want to thank YOU for your business and support. At Frame USA, we work hard to appreciate every order we receive. From 1 frame from Jane Smith in Texas, to 10,000 frames to an organization – we thank you for shopping with Frame USA.
Company Values
Our company value system consists of: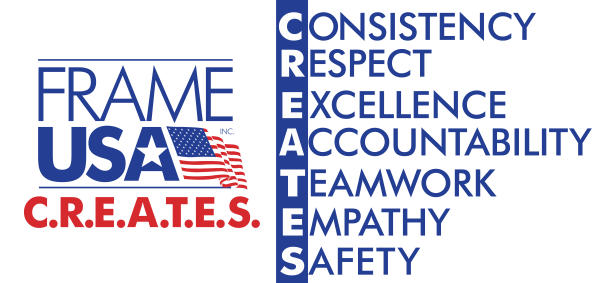 Looking ahead to 2023, we want to make our commitments or New Year's Resolutions for 2023 to you clear. 
Consistency

We work hard to reply to all customers in 1 business day or less.

While Customer Service has dropped almost everywhere the last few years, we want you to know we take this seriously.

Respect

We respect that you have choices in who you purchase your picture frames from. It is our job to make you a RAVING FAN of Frame USA from start to finish in your experience.

Excellence

As a team, we review quality incident reports of things that go wrong on a weekly basis.

When we didn't do something right the first time, we want to work to learn from it, and avoid the mistake again in the future.

Accountability

We will hold our team members accountable to provide you, our customer, with great service and quality, in all that we do.

Teamwork

We will work together as a team to accomplish our goals and meet our deadlines, so that we can meet or exceed our customer's expectations.

Empathy

We will listen. We will listen to your feedback, and do our best to make changes.

Safety

We will create and exhibit a safe work environment for all of our employees to create fantastic American made picture frames for you.
These New Year's Resolutions are our promise to you as we head into 2023, and will be our central focus as we conduct our business! We hope you and yours have a great end to 2022! We look forward to serving your picture framing needs again in 2023!
Kelly Ackerman
CEO