Frame USA offers a variety of options for personalizing your picture frames, from laser engraved frames to, laser engraved mats, glass and plates.  Our laser engraving is a great branding and recognition gift solution for businesses and non profits while keeping your budget in mind.  This is also a great gift for someone special in your life that you feel deserves special recognition or for a special occasion such as a wedding, Mother's Day or the birth of a child/grandchild.

The most popular personalization is engraving a logo or text directly on the frame.  We have a wide selection of wood frames, from contemporary styles to traditional dark woods that will create that high end look for a wholesale price.  This is a great recognition award for an employee or team that will be a lasting acknowledgment of their accomplishment.  We can create and edit icons or use your provided art to create a personalized gift that will look great on any desk or wall.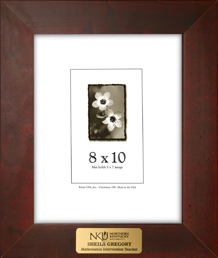 Engraved plates are a more traditional addition to our frames that will give it that professional look for any occasion.  This is a great product for recognition awards, special dates to remember, or even to make your child's artwork look like it belongs in a museum!  A professional look for a great price!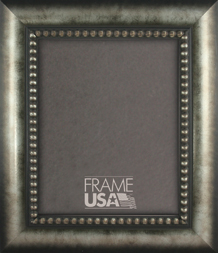 Many of our frames are beveled or decorative, and engraving and plates are not an option.  This is where a personalized laser engraved mat or glass would be the perfect solution.  Engraved mats and glass give you an elegant look for a wholesale price.  We can create a design or use your art to create that special gift for anyone.
While considering your options for Personalized Products don't forget our plaque product.   The beauty of the plaques is that we can create artwork with your color logo and that really makes this product personalized for a company presentation.   For Employee-of-the-Month or for year-end presentations that are few options that are better than personalized plaques.    Plaques are also great for the education market because of the ability to hang a product without glass.   Make sure to get a good look at our plaque product and if it is new to you talk with one of our salespeople or "Live Chat" about how this product can work for you.
Frame USA is your one stop shop for personalized wall photo frames for any occasion! We are sure you will find the personalized frame that is right for you or your organization by shopping with us!