Our Charity for the Month of February
It is hard to talk about something so serious when all your brain really wants to think about right now are Katy Perry's Sharks. Sometimes, however, for the greater good of the world you have to talk about the difficult things.
If you are lucky you have never and will never have to deal with a loved one's life being taken by a life threatening disease such as cancer, most of us, unfortunately, are not that lucky. If there is one thing that everyone can agree with it is this: Cancer Sucks.  What makes matters even worse is that these diseases like cancer don't discriminate, there is not a single person on this planet that is safe, including children. Children haven't even had a chance to live their life before having to fight for it.
The one defense that people have against cancer and other life threatening diseases is that we have teams of Doctors and Scientists working day and night to find a cure and treatment for them. One of which, and probably the most well-known, is St. Jude Children's Research Hospital.
According to their website:
"The mission of St. Jude Children's Research Hospital is to advance cures, and means of prevention for pediatric catastrophic diseases through research and treatment. Consistent with the vision of our founder Danny Thomas, no child is denied treatment based on race, religion or a family's ability to pay"
St Jude is internationally recognized for "its pioneering research and treatment of children with cancer and other catastrophic diseases." It is one of the best pediatric cancer hospitals in the country and is the "first and only national cancer institute designated comprehensive cancer center devoted solely to children."
Frame USA wants to help you help the world. So for our February 2015 charity, we have chosen St. Jude Children's Research Hospital.
Frame USA will donate $0.75 for every purchase of picture frames made on our website. As well as this donation our customers also have the option of donating one dollar when they check out online.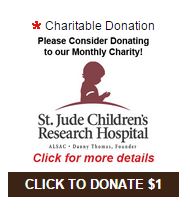 Your one dollar could save millions of children's lives.