Engraved Picture Frames
Did you know that at Frame USA, we have our very own engraving machines?
Previously, we've stuck to taking laser engraving orders over e-mail, volume framing quotes or phone calls, but with the launch of our new website, we decided to build an engraving web app from scratch! Today, we're going to walk your through the process of placing orders for your very own engraved frames–without the outrageous prices you find in retail.

Your First step is simple–just click on the "Laser Engraving" tab on the top navigation! (In the image above, we have highlighted the tab in yellow so that you can locate it on our site.) This will set you on your way to creating your very own, unique product.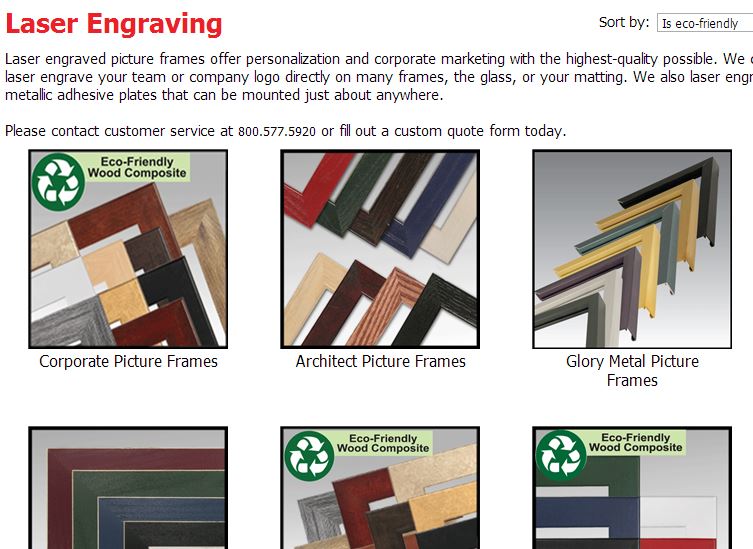 Once you've clicked the Laser Engraving tab, you will be taken to this page. This lists all the different frames that you can engrave and personalize! Just as a general rule of thumb, you'll want to try to stick to darker colors. We highly recommend our Corporate series for engraving–customers can't get enough!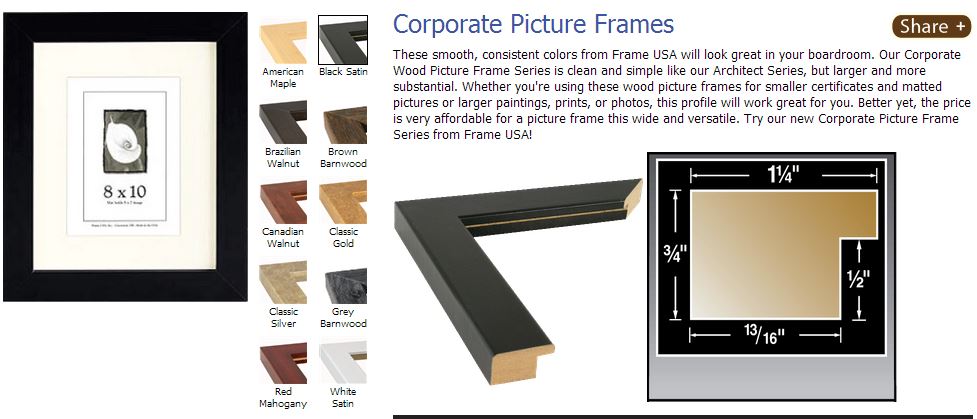 We've selected our best-selling Corporate series for this demonstration, so let's begin! First, you will select the color that you would like to engrave. Please note that not all colors are available for engraving (mainly due to color issues with wrap/MDF construction.)

Once you've decided on a color that you're pleased with, it's time to scroll down to the volume order form. Here you will select the color and size of the frame you would like to engrave. You'll do this by clicking the boxes right-most column called "Engrave?". After clicking, simply select the quantity that you would like. After you've added all of the frames you desire, scroll below and click "Engrave & add to cart".

You will then be directed to this listing page, which is mainly to inform you of what you have selected. Click on the prompted button to continue to the custom Laser Engraving application.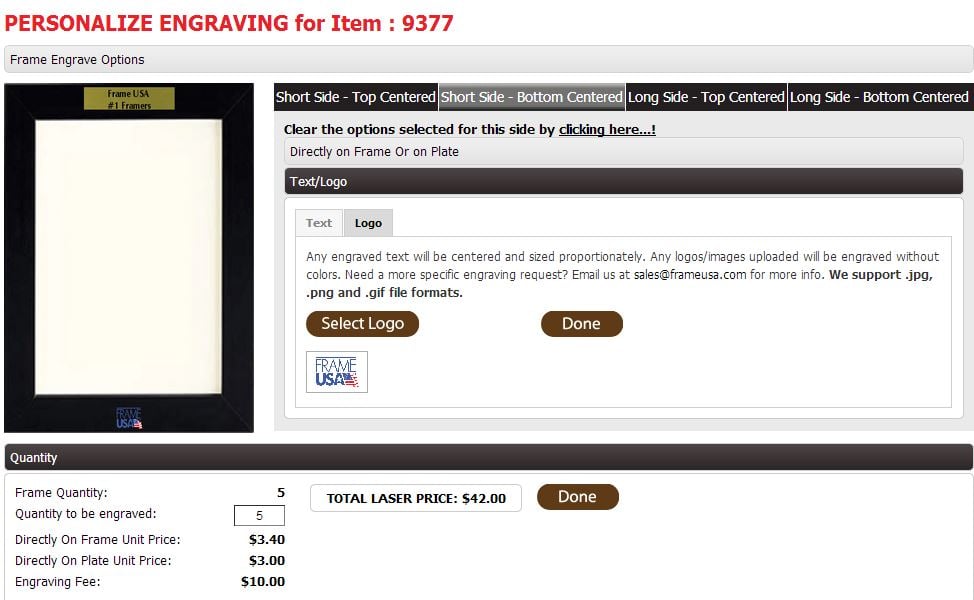 Here we are, the personalization page! At this step, you will personalize your very own engraved picture frame. The choices are limitless–not only can you select any of our engraveable frames, but you can select whether you would like to engrave DIRECTLY onto the frame OR use one of our four plate options. These options include Rounded and squared shapes in both gold and silver. We also have a wide selection of fonts to choose from, as well as the ability to upload your own logo or image!
Speaking of uploading your logo, your results will be at their premium if you upload a high-quality image. The image will upload to the page small, and if you have uploaded a color image, please not that it will be adjusted to monochrome. Therefore, for best results, we advise that you upload a high-quality, black and white version of your logo. Also, please take note that there is acharacter limit for this app, but you can contact customer service for ANY special requests and we would be happy to find a solution and create a detailed mockup for you.

After you have customized your engraved frames online and are satisfied with the result, your next step will direct you to this page. You will be able to view all of the information that you entered into the previous page. Be sure to proofread your information, then confirm your information by clicking the checkbox. To check out, click the "Add to Cart" button and continue.
That's all there is to it! If you have any questions about laser engraving, feel free to contact us!
To get started, click here and frame today!