Hunger. It's something we're all familiar with; something we've all felt. If you go too long throughout the day without eating it makes you start to feel bad, even sick. It's nice to be able to just run somewhere to get a quick bite, or to grab a snack out of the fridge or pantry and make that go away. Unfortunately, some people–many people–in this country can't do that. Their hunger can go on and on because they're unable to get food form themselves or worse, for their families. The reasons are varied and irrelevant. No one should have to go without food. In 1971, a Cincinnati man named Frank Gerson thought that same thing and began keeping food and household items he saw being discarded at his work to give to disadvantaged families. This act of kindness grew into one of the largest foodbanks in the state of Ohio. This is Frame USA's Charity of the Month:
The Freestore Foodbank of Cincinnati.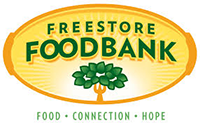 The Freestore is a non-profit 501(c)(3) charitable organization that collects food and household goods that most of us take for granted, and distribute them throughout 20 counties across Ohio, Indiana and Kentucky. They purchase, solicit and collect food donations and provide 20 million meals a year. They work with 250 different community partner agencies to make this happen. They are a member of the Feeding America network of food banks and rescue programs and their mission is simple:
"We provide food and services, create stability, and further self-reliance for people in crisis."
One of their core values is a commitment to the idea that "we will not accept hunger." And they don't. They have a "Customer Connection Center" in downtown Cincinnati where people in need can go to receive help. And not just with food–they provide clothing assistance, help with money management, bus tokens, housing and rent assistance and a homeless outreach program. In addition to this they seek out families in crisis who aren't close enough to come to the Connection Center but still need their help. In addition to this they have other food related programs to help stamp out hunger:
Cincinnati COOKS!
The Giving Fields
Rosenthal Fresh Food Initiative
Power Pack
Kids Cafe
Please go to their website freestorefoodbank.org to learn more about how you can help, not just in Cincinnati, but in your own hometown. Also, if you'd like to donate you can click on the "donate" button on your checkout screen to send a donation to the Freestore (we also donate $0.75 of every frame order to our November 2015 charity of the month).
With Thanksgiving coming up, eating will be on most of our minds. Let's try to get everyone fed, not just for this month, but every month.