Art & Canvas Releases BoJack Horseman Posters for Just-Premiered Season 3
Season 3 of BoJack Horseman, a Netflix exclusive show, premiered Friday, July 22. Within hours of premiering, it was already renewed for Season 4. The animated series centers around BoJack, a self-loathing alcoholic and washed-up sitcom star trying to make a comeback in Hollywood. The characters consist of anthropomorphic animals and humans living in Los Angeles.
Art & Canvas picked up the poster license for BoJack Horseman, making them available for purchase on July 15, 2016 on our website, www.artandcanvas.com.
Entertainment Weekly's July 22, 2016 issue rates BoJack Horseman an A and their website chose it as Pick of the Night for its release on July 22 to binge watch. In this same print issue, BoJack Horseman makes The Must List (a list of top 10 things Entertainment Weekly loves this week) for TV, saying "brutal cynicism, devastating poignance, and animal puns ensue."
According to a July 27, 2016 article in Business Insider, Rotten Tomatoes has confirmed with them that BoJack Horseman has "the highest rating of any show released this summer". Bojack season 3 also has a 100% review on Rotten Tomatoes, a popular film review aggregator.
BoJack Horseman Posters Available at www.artandcanvas.com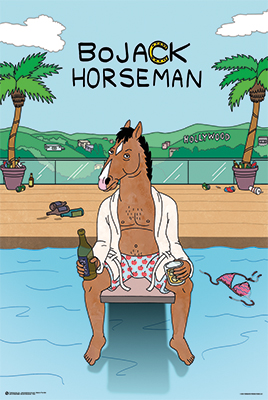 PSA010965 BoJack Horseman – Pool 
– Key art for the show from season 1, of BoJack and his everyday vices.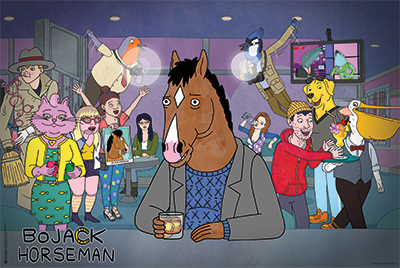 PSA010970 BoJack Horseman – Dive Bar
– Major and minor characters being themselves in the local dive bar.
For further questions about this hit show and/or our newest posters, please contact us today!
Angela Aronow, Licensing Director
Marketing Analyst
513 250 4145
[email protected]