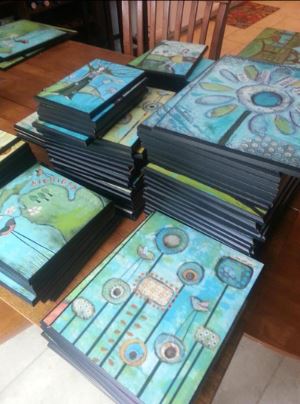 Our poster division, Posterservice Inc., is very fortunate to have such a diverse customer base. Music stores, museums, smoke shops, poster distributors, Spencers, college book stores and educational resource vendors all depend on Posterservice for the hottest images in poster printing and publishing.
One service that our customers particularly enjoy is a service offered by Posterservice called plaque mounting. Plaque mounting is a display option that allows you to preserve your image my mounting an image on wood, followed by laminating the image in a transparent seal that turns an ordinary wood mount into… well, a plaque! Chances are, if you've visited any home decor shop, you'll find a great assortment of beautiful art prints inside of a plaque.
Kandy Myny – artist, entrepreneur and our number 1 plaque customer – has used Posterservice for just a short period, since February 2011. In this time she has placed an average of 6 orders a month, each order totalling a substantial amount of plaques. It's customers like Kandy that any business is proud to serve. She loves our wood mount product so much that it is one of the main items she sells showcasing her beautiful art!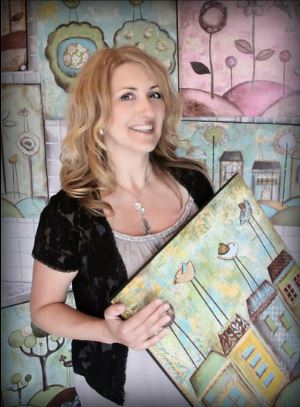 About the artist:
"I am a self taught mixed media artist creating original paintings, collages and reproductions. I love to express the whimsical side of things by using a rich and colorful color palette. My whimsical mixed media style is created using paint, paper, charcoal, and a variety of textural elements to create unique, one of a kind pieces of art. Whenever possible I enjoy using recycled materials both new and old to incorporate into my work. My portfolio includes a whimsical world of colorful neighborhoods and landscapes with trees that resemble lollipops, birds with stilt like legs, owls, quirky homes and girls with inspiring messages. In just a few short years I have created Bit O' Whimsey Design Studio, travel to juried art fairs, sell to galleries and boutiques, manage an Etsy shop and I have created a wholesale line. My art has been well received and is in homes across the country and the world…"
Kandy's Portfolio and Shop: BitOWhimsey.com
Facebook: Facebook.com/bitowhimsey
Etsy: BitOWhimsey