Art & Canvas is very proud to be working with Brooklyn-based Pop artist Dean Russo. Dean celebrates his love of animals through this extensive collection of poster canvases. With vibrant colors and characteristic aplomb, Russo's deep affection for the animal world resonates through his work.
The graffiti-laden streets of Russo's Brooklyn upbringing inspired him to create a truly idiosyncratic approach to design and filigree. An often-misunderstood artist, Russo's medium is joy, vibrancy, and a love of life.
Item #: DEAEXL252209

Size: 16×12, 24×18, 32×24, 40×30
Price:

$10.56+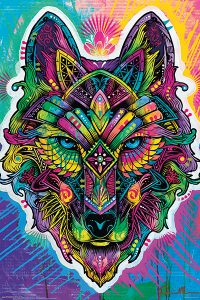 Item #: DEAEXL263617

Size: 12×16, 18×24, 32×24, 40×30
Price:

$10.56+
Once you pick out your favorite poster at artandcanvas.com, your next step is picking out the perfect poster frame.
FrameUSA.com and artandcanavs.com are sister companies and this is one of the main reasons why! FrameUSA.com offers a wide range of frames that are perfect for your new posters.  Check out their full selection today here!