Frame USA's sister company Art & Canvas is excited to be working with artist and illustrator Ali Güleç, based out of Istanbul, Turkey. Our posters by Ali are a series of decorative skull illustrations that combine beauty with macabre. Ali works using both traditional drawing mediums and digital images to create his designs.
Our most recent poster designed by Ali Güleç is titled "Bloom Skull". This piece shows a beautiful juxtaposition of life and death. Though the overall composition is of a skull, suggesting a more macabre theme, the skull is made entirely of flowers and plants fully alive and in bloom. The illustration has dark undertones, but also has an over all delicate and decorative aesthetic that makes for perfect wall decor.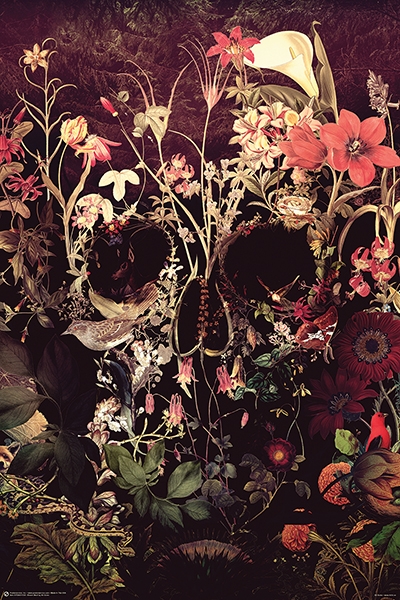 "Bloom Skull" by Ali Güleç
Item #: PS-AG003

Size: 12×18, 20×30, 24×36
Price: 

$11.15+
We also carry two other designs by Ali Güleç titled "Flower Skull" and "Lace Skull". These illustrations have similar themes of mixing darkness with beauty.
Of course once you have your poster, you'll need a frame to display it in! Art & Canvas. works together with Frame USA in the same building in Cincinnati, OH to bring you all American made products. Frame USA offers a wide selection of poster frames in different materials, sizes, and colors for you to find the perfect frame for your poster. Click here to view our poster frames.