Making a decision about what type of frame to use sometimes can cause a surprising amount of confusion. The most common question we receive is whether to use glass or acrylic for the picture frame. Acrylic Picture Frames are the ideal choice when you need cheap photo frames fast. Our bent clear acrylic photo frames stand on their own and are perfect for the home or the office.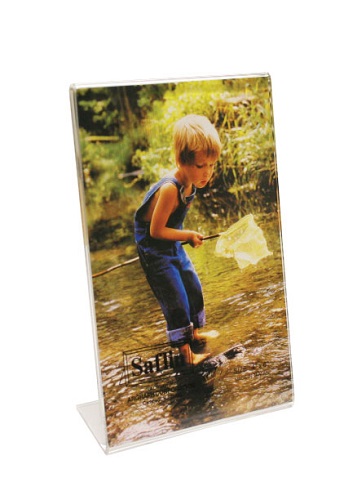 These affordable plastic picture frames offer an easy way to display your favorite snapshots and images:
Acrylic is handy because it usually will not break during shipping, which can occur when using glass frames.
For larger frames, many places use acrylic picture frames because glass is very heavy when cut to large dimensions. Acrylic being lighter than glass dramatically lowers the shipping cost.
Many museums prefer acrylic to glass because if the glass breaks it can tear and destroy artwork. Even when framing pictures in your home, acrylic picture frames are advised for artwork hung in children's rooms or where vibrations from closing doors or breezes from open windows may cause issues.
But, the clear acrylic photo frames are not just for pictures, they are also great at housing trading cards, ticket stubs, magazine cut-outs, drawings, foreign money from vacation, awards as well as numerous other items.
The acrylic picture frames can display images in portrait or landscape view (vertically or horizontally) and it is extremely easy to remove pictures. These frames are particularity nice during the holiday season because they are a cheap gift but can have a lot of meaning based on the picture you decide to frame. The simple look makes it so that your image is always the center of attention.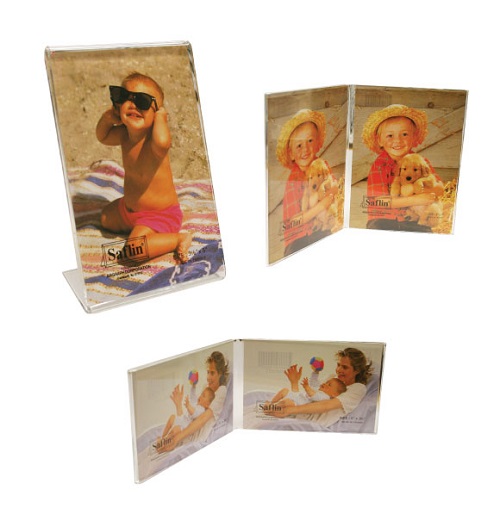 Regardless if the acrylic picture frame is for you or you're giving it as a gift, we know you will enjoy this product. Acrylic is a great alternative to glass in picture frames because of its inexpensive durability. It provides a clear surface to protect and display your images without the fragility of glass. So head on over to Frame USA and shop the wide selection of acrylic picture frames to find the perfect frame option for your photos and art.