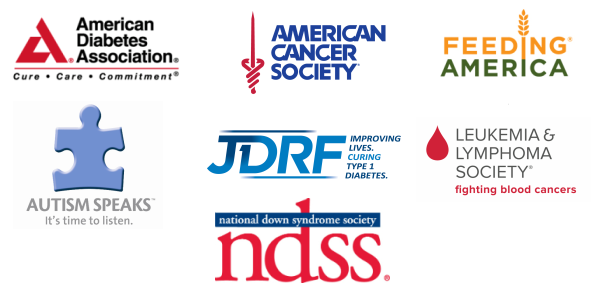 Around 5 years ago, Frame USA started its monthly charity initiative program.  This program was started to help support local and national charities with monetary donations, volunteerism and other resources they may need.  Every month, our internet site donates $1 for every picture frame order placed on Frameusa.com and $1 for every custom framing order that our retail store takes.  We also give our customers, vendors and key partners the opportunity to donate any amount they wish.  Our goal with our charity initiative program is to raise as much money as possible for a variety of deserving charities. These are some of the twenty-plus charities that we have sponsored are:
American Cancer Society
American Diabetes Association
ArtWorks
Autism Speaks
Children's Safe Drinking Water
Feeding America
Foundation for Survivors of Sexual Abuse
Juvenile Diabetes Research Foundation
Health Care Connection
Kidney Foundation of Greater Cincinnati
Kiva Organization
Law Enforcement Special Olympics Torch Run
Legacy Project Listen to Life
Leukemia and Lymphoma Society
Minds Matter
National Down Syndrome Association
One Laptop Per Child Foundation
Soldiers' Angels
The Fresh Air Fund
Tony Snow Scholarship Fund
About 3 years ago, our CEO had visited the Healing Center in Springdale, Ohio and was so impressed by their operation and their ability to help the community; he decided to help them in a big way.   Dan took the Monthly Charity and turned it into an annual program.  This program called Fill the Truck was a huge endeavor for, not only the employees of Frame USA, but the community as well.  There was a 54 foot semi truck parked in the front parking lot of Frame USA shrouded in banners proclaiming the challenge to fill the truck in 21 days.  The range of items that were requested by the Healing Center that would benefit their clients; pillows and blankets, winter clothing for adults and children, personal care and cleaning items, kitchen wares, food, and including a Christmas food basket.  Fill the Truck also accepted cash donations which would allow the Healing Center to use the funds as needed.  Between the generosity of our neighbors, the employees of Frame USA and Frame USA's vendors and key partners, not only were they able to fill the truck, but they OVER filled it!  The Healing Center was able to use the donations collected by the Fill the Truck program for over 5 months at the beginning of 2011. This great endeavor received the attention of the Eisen Agency and Frame USA was honored with a Pillar Award for their work to help their community.
Because Fill the Truck was so successful in December 2010, it expanded in 2011.  There were 11 trucks spread out over the Cincinnati and Dayton Area.  In Northside, OH, one of Frame USA's key partners, Visionaries and Voices, hosted a truck for CAIN (Churches Active in Northside).  Downtown Cincinnati had a truck sponsored by the NAACP for the Frederick Douglas School and Hannah's Treasure Chest in Dayton, OH was sponsored by Centerville Coin and Jewery.  The following were also helped by the Fill the Truck program in 2011:
Valley Interfaith Food and Clothing Center
Inter Parish Ministries
SON Ministries
One Way Farms
Matthew 25 Ministries
Reach Out Lakota
The Brighton Center
Frame USA's 2011 truck was over filled again, and has created a lot of excitement for December 2012.  This year, the goal is to help more people here in the Cincinnati region that has been affected by the different struggles that have met the nation.
Fill the Truck also initiated a school version in the summer of 2012.  Valley Interfaith Food and Clothing Center holds a "Back to School" week where they supply all the children that they serve with school supplies to prepare them for a successful year in school.  We partnered with KDM POP Solutions and also helped collect school supplies for Princeton City Schools.  Between the two trucks, we collected enough book bags, pens, pencils, and packets of paper to help hundreds of children through-out the tri-state and armed them with the ability to learn while in school and ease their parent's fears about being able to obtain all the things their children need.