When moving into your first home, the first thing you will notice is how tragically bare the walls are. No good! The décor in any home should be a reflection of those who live there. To that end, art is important for every room.
Not sure where to start? Here are some decorating tips to get you started in turning your empty home into a place filled with things that will entertain, relax, and inspire you.
Bedroom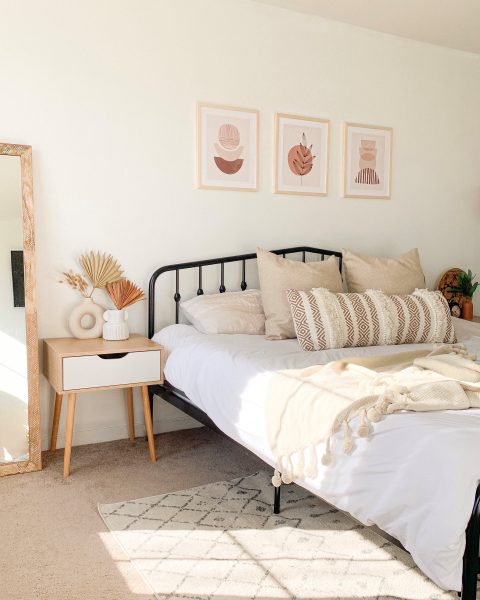 The bedroom is possibly the most important since you so spend so much time there. It is your go-to sanctuary when you need to relax, and the place you start and end your day. The art you choose should reflect the role of the bedroom as a place of serenity. The arrangement of the art should be simple. Large pieces work great for that since you can get a lot of wall coverage without things getting too busy. Lean toward formless, abstract pieces with colors and tones that you find the most soothing. Softly lit, desaturated photography are also great choices if that is more in line with your preferences. In the spirit of keeping an understated aesthetic, use simple, inconspicuous frames.
Bathroom
Decorating the bathroom presents a unique challenge compared to other rooms. Hot baths and showers create frequent fluctuations in humidity and temperature, which can damage some artwork if you are not careful. Wood frames and paper prints are especially vulnerable to water damage and even mold if exposed to humidity too often. Therefore, it is wise to use plastic or metal frames, which are more resistant. You can also effectively waterproof your prints by laminating them before framing. If that is not an option, use artwork that is easily replaceable. That way it is no big loss if something gets ruined.
As for the subject, typographic prints are always great for the bathroom. Since so much of your morning routine happens there, it is a good opportunity to start the day surrounded by the phrases and mottos that inspire and energize you the most. Nature-themed art also works well. Depictions of animals, plants, and landscapes bring the outside in and can help in "opening up" a room that might be otherwise windowless and enclosed.
Kitchen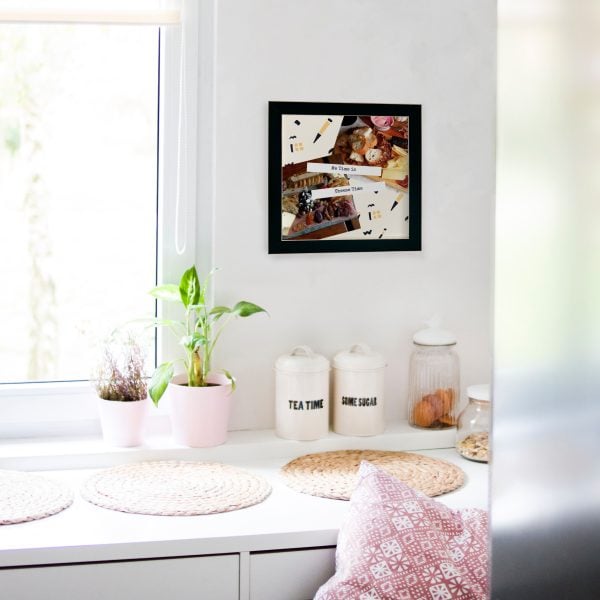 The kitchen is sometimes overlooked when it comes to art and décor. This may be because the room is seen as too "functional." A place where you go to do chores like cooking and cleaning rather than relaxing or having fun. But if that mindset applies to you, that is all the more reason to spruce up the room with some nice artwork! Take the opportunity to give yourself something interesting and uplifting to look at while you're washing dishes.
Many kitchens have mostly white walls, so pieces with lots of bright colors work well in adding some vibrant contrast to the room. Similarly, decorative frames work well for the same reason. The size and arrangement of your kitchen will also be a factor. If your kitchen is on the small and cluttered side, aim for a few smaller pieces that will integrate with the room without overwhelming the space. For larger, more spacious kitchens, a large primary piece works wonders as a focal point.
Office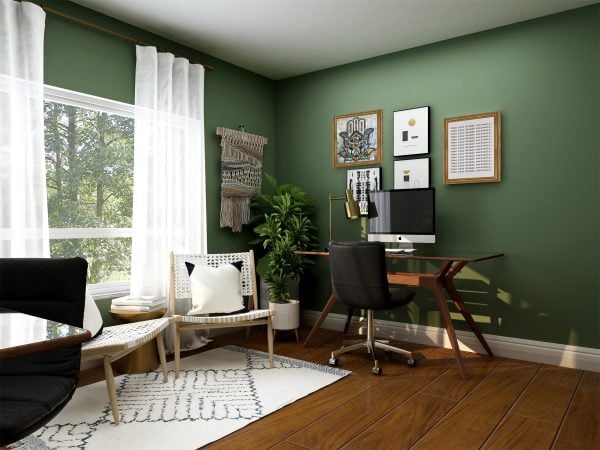 The office is your space for work, so your office décor should reflect that by encapsulating that which inspires and motivates you. Think of phrases, ideas, or even artists and professionals whose work has helped to push you forward in your own development. It also helps to remember what you are trying to accomplish with your work – your goals, the family and household you are supporting, or whatever else drives you — and use art as a motivational reminder. Since the décor in this room is all about what inspires and motivates you, feel free to stray from simple, minimalist frames. Instead, take the opportunity to collect some unique frames that will give the room a touch of your own personal character.
Living Room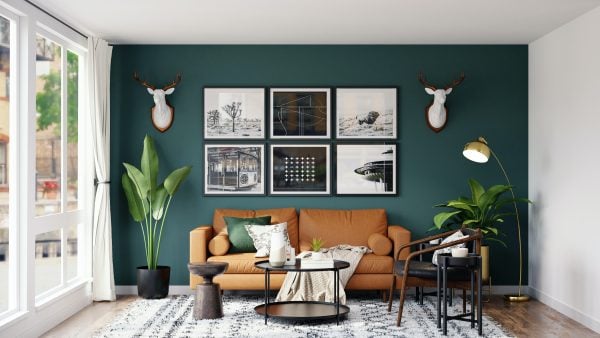 Living rooms usually mean big, empty walls. So let's take advantage of all that space!
Big rooms are great for big art pieces, but another (and perhaps more fun!) option is creating a gallery wall. Gallery walls are a great opportunity to showcase all of your most treasured framed pieces all in one space. There are no hard and fast rules when it comes to a gallery wall, so let it be an expression of you!
One approach is to plan the entire gallery wall beforehand, with each piece sharing a common theme or stylistic element with the others. This makes the display feel more cohesive. Another way is to do it completely organically, adding different pieces in different frames over time. This approach gives a more playful impression to the room, and can even be an ongoing creative outlet that allows you to experiment with different interior decorating ideas. You can even swap out and rearrange pieces whenever you desire, turning your wall into a living, ever-changing art exhibition!
For more framing and decorating tips, contact the experts at Frame USA today!