Why Frame USA, Inc?   We are operating our business from an 85,000 square foot building in Cincinnati, Ohio that started making picture frames about 20 years ago.   From this building we have about 70 employees that work hard everyday to create Raving Fan Customers.    Why should you try Frame USA, Inc. for your picture frame needs?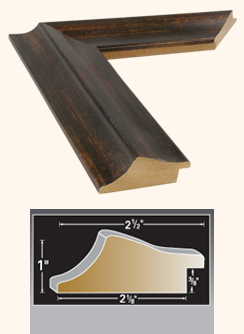 First of all it's the moulding.   Every single component of our picture frames is manufactured in the United States from a range of several manufacturers.  Many of you heard about buying American Made Products on ABC's made in American Segment last year—we were featured.   In house we have close to 2 million feet of moulding in stock to take care of almost any picture frame need you have.   The variety is substantial.
We offer an almost unlimited number of Wood Picture Frame choices, many of them are eco- friendly.  Whether a simple black picture frame design or something more complicated and elegant or something to go in the living room Frame USA has choices for you.   The beauty of these choices are that the frames come in 33 standard sizes, almost ready to hang, or they can be ordered in custom sizes that you need for a special project.
We also have a wide range of metal frames, in many different colors which are some of our top selling picture frames.    The beauty of metal is it fits nicely in offices, banks, and is great for a permanent gallery display that you might offer from a group of college or high school artists.  The suitability of metal frames for any given project never changes.
On top of wood and metal frames we make what we believe is the best Shawdow Box frame in the United States when comparing price to value.   This frames are meticulously crafted by our framing experts and the frames we offer for framing Athletic Jerseys are top notch.   We also offer everything from simple and inexpensive poster frames (some people say cheap poster frames) to our budget and economy lines of frames. A price-point for every buyer is available.
If your company is having a BIG event and needs some kind of a promotional frame or award you must consult with Frame USA about our award-winning plaques and laser-engraved frames.  We've handled huge corporate requests from sports teams, weddings, special events.   Let us help you capitalize on your logo, your name, your event.
Wholesale Picture Frames
On top of our great selection the real benefit to buying from Frame USA is that you get real wholesale pricing.   These are not fake wholesale prices that some people call "wholesale pricing" these are real wholesale prices.    Look around on the internet and you'll find that there is hardly anyone even close to us in terms of price.    We also offer a wide range of closeout frames—these are extra over-runs and seconds.   You can get some serious deals on these frames at www.framecloseouts.com.   Also a list of what we have in stock ready to ship today can be found here.
Thanks for taking a look at www.frameusa.com.
That's why you should choose us for your picture frames. Frame on!