If you have received any of our recent emails, you may be asking yourself: Who is Superframer and where did he come from? See, it's kind of a funny story…
Superframer was developed several years ago by one of our own employees, Neil Herrin. Neil, our IT Manager, has always had a love for comic books and action figures. At the time, our Marketing team was considering developing a new website called SuperFramer.com. We thought that this new website needed a face and identity to it. From this concept, Superframer came about! Neil took it upon himself to create this great identity for Superframer and we loved what he developed.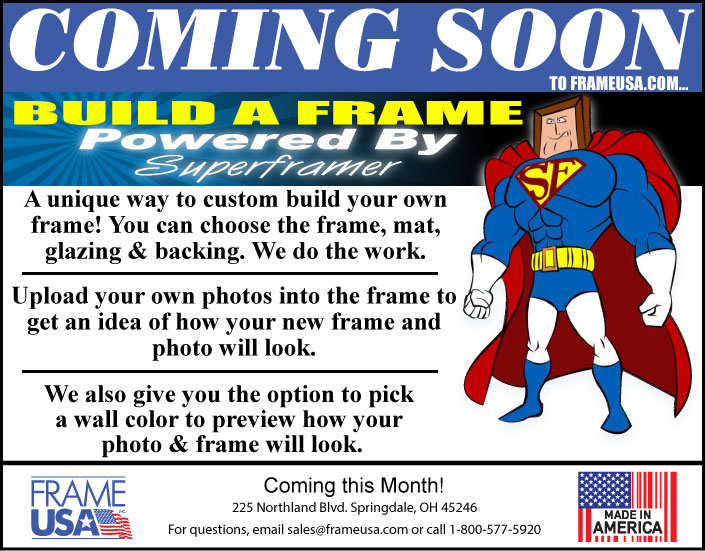 As we started to develop our new Frame USA website in 2011 and 2012, we knew we wanted to add a Build A Frame feature to the site. What is Build A Frame you might ask? Build A Frame allows you, the customer, to choose an image, mat, frame, glazing, and backing all together in a simple ordering process.
We wanted to develop a way for our customers to order everything together, instead of having to continue to order these items on different websites. One of our number one goals has been and will always be to simplify what we do for our customers. We want our customers to love our ordering process, think it is simple, and always want to come back to Frame USA. Raving Fans is what we are all about and our main goal is to make you a Raving Fan of Frame USA!
SuperFramer is the designing force behind our new Build A Frame feature on www.frameusa.com. He puts a name, face, and identity to this feature and certainly adds some fun as well!
We will be releasing our new Build A Frame feature to our customers any day now. Check back soon for more details on Build A Frame, Superframer, and more exciting things to come at Frame USA!