It was April, 1994 when the news hit MTV: Kurt Cobain had been found dead in his Seattle home. A self inflicted gunshot wound to the head was the cause of death. A husband, father, songwriter and a hero to many had given in to his personal demons and left the world in a flash of smoke

and flame. He died alone. Millions of music fans–kids who'd looked up to him, musicians who'd been inspired by him–were devastated. It was the end of a very short, but very exciting and irreversible era of change in the industry.
In 1991 the radio waves were dominated by manufactured pop stars, heavy metal and hard rock guitar gods, controversial hip hop artists with something to say and Garth Brooks. Genres were all well defined, as far as mainstream music was concerned. It didn't seem that anyone could break in unless they were fronting one of these well established party lines.
Then Nirvana released Nevermind and broke the dam for the weirdos, ushering in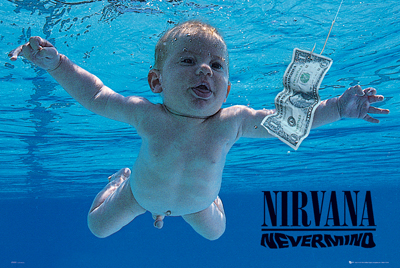 the era of "alternative" and inadvertantly (and very reluctantly it would turn out) spawning a movement and a shift in musical dominance.
Nirvana had been together since the late eighties. Who was Kurt Cobain? Kurt Cobain and Krist Novoselic had played together since high school and had gone through a couple of drummers. They'd even recorded one independent album, "Bleach" which initially was only heard by fans of underground "modern rock". They took on Dave Grohl as their new drummer and their sound changed somewhat. He gave them a little more "oomph" and when Nevermind came out it hit like an atomic bomb.
Led by the first single, "Smells Like Teen Spirit", Nevermind was a gravelly, scratchy and sloppy counterpoint to the overproduced and hyper polished music that flourished around it. Kurt Cobain was not a guitar prodigy. The band did not look like pop OR rock stars. Dressed in ratty flannel shirts over band t's and ripped jeans they looked like the kids you went to school with. They were approachable and relatable. They also crafted songs that were both catchy but also edgy. Lyrics with a little more depth than your typical hair metal or boy band song. The album took radio and MTV by storm and Nirvana became the biggest band in the world. They would open the door for other Seattle bands and became the face of "grunge" music. All the bands that the weird kids listened to suddenly became cool.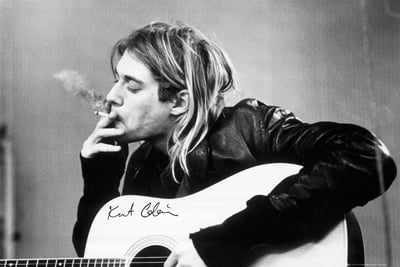 Fame did not sit well with Kurt Cobain, however. He was uncomfortable in the role as mouthpiece for a generation. He didn't like that the kinds of people who'd picked on him in school were now Nirvana fans and singing his songs at concerts. He'd also developed a serious drug habit, partially as a way to deal with excruciating chronic stomach pains. Nirvana would go on to release an album of B sides, another full length LP, "In Utero" and an amazin MTV Unplugged set.
Despite the success in the music industry and the family he'd started, Kurt Cobain committed suicide sometime on the evening of April the 4th, 1994. Dropbox (2)