September is characterized by many things: the End of summer, the start of fall, daily holidays such as Hug your Boss day, and one very important awareness. September is suicide prevention month. Mental health in the past couple of years has been on the rise in the media. People deciding that their mental health is more important than jobs, family members, or jobs. With the covid-19 pandemic still rearing its ugly head in all conversations, it's the very real effect on everyone's mental health continues to be a very real issue (in addition to you know keeping your loved ones out of covid's deadly grasp).
September Charity of the Month
During high school, I had my first experience with my mental health affecting my life negatively. I have since figured out tools to help navigate any of these challenges. Had someone in my life stepped in to help me find those tools earlier in life, things may have gone much different. I am now using the platform that I have as Marketing Manager to select a charity that will do just that for young adults. Enter, The Jed Foundation, frameusa.com's September Charity of the month.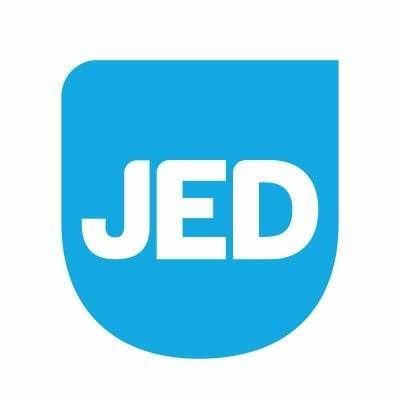 Jed Foundation History
In 1998, Donna and Phil Satow had their whole world come crashing down. Jed Satow died by suicide on December 29, 1998. Donna and Phil lost their son. More than 40,000 families are losing young lives to suicide and drug overdoses every year. Those that knew Jed at the time really didn't understand what happened. Those that knew him, describe him as kind and charismatic, outgoing. Those close to him thought they really knew him.
The Jed Foundation began in 2000 to protect emotional health and prevent suicide for our nation's teens and young adults. The Satow's wanted to launch a blueprint for prevention in memory of their son. As a result, JED focuses on both improving programs to help depressed teens, but also help adults recognize the warning signs for those that haven't come forward. Today JED is the nation's leading organization dedicated to young adult mental health.
Jed Foundation Vision
Jed Foundation helps students navigate the emotional challenges of high school and college, preparing for adulthood and thrive while doing it all. They have a vision that one day a world will exist where:
Every high school and college has a comprehensive system that supports student emotional health and reduces the risks of substance misuse and suicide.
All teens and young adults are equipped to navigate mental health challenges and seek and give help, as well as be emotionally prepared to enter adulthood and fulfill their potential.
Our communities support the emotional well-being and mental health of teens and young adults.
Mental health is recognized as part of general health and wellness and not associated with shame, secrecy, or prejudice.
What the Jed Foundation has accomplished
Since its beginning, Jed Foundation has helped over 9,000 schools strengthen their mental health and suicide prevention safety nets for students. Schools that have completed JED Campus have improved their mental health approaches through life skills programs, identifying students at risk and promoting help-seeking behaviors and so much more.
For our September charity month, Frame USA will be donating $0.75 from every frame order to the Jed Foundation. If you would also like to donate additional funds you can do so on the checkout page.