Frame USA C.R.E.A.T.E.S. This acronym represents our core values. Our values are the first thing you see when you enter our warehouse. Definitions of each of them adorn the walls. They serve as a reminder of who we are as a company. They serve as guides for what we expect from every employee. Without these values, our company would continually fail. We would lose the opportunity of giving back to the community and world around us.
Consistency, Excellence, and Safety are more geared toward our products and work location. Respect, Accountability, Teamwork, and Empathy remind us how to treat each other, and our customers. But more importantly, when we act with them they allow us to have an impact on the greater good.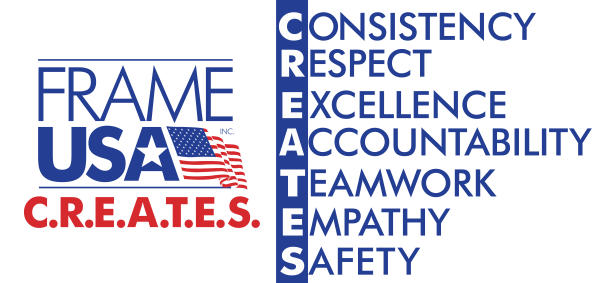 Giving Back with Respect & Empathy
Whether the charity focuses on finding a cure or treatment for a disease or disorder, providing supplies to those in need, or just simply giving individuals a chance to live an independent and safe life, they all are centered around respect and empathy. Showing Respect for all human individuals regardless of their sexual orientation, race, gender, or mental/physical capabilities is crucial for the world. Showing Empathy to individuals that aren't in a great place and giving them supplies to help can be the difference between life and death.
The Charities
Regardless of what is happening in the world, we will continue to do two things. Building American Made frames, giving back to charities. For the month of July 2022, we are supporting not one but two charities. Proceeds from every order throughout July will be going to Pockets Full of Sunshine and The Princeton Closet. These two charities are particular favorites of ours for their mission. Pockets Full of Sunshine provides employment opportunities to individuals with disabilities. The Princeton Closet is a Cincinnati organization that provides any necessary item a student needs to get the most out of their education.