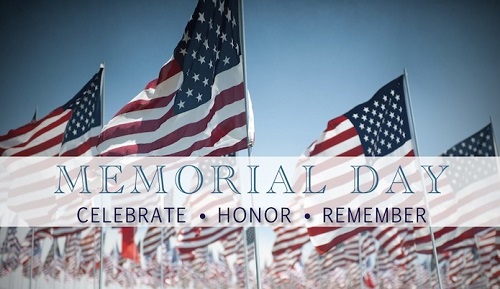 What is Memorial Day? Memorial Day is an annual, authorized holiday that has been recognized by the US government as a day for remembering those who died while serving in the armed forces. On this day many people visit memorials and cemeteries and place flags on graves to show their respect.
This holiday was originally known as Decoration Day as was used to honor the Union and Confederate soldiers who lost their lives during the Civil War. It wasn't until the 1900's that is became a day that honored all the soldiers who dies while serving their country. There was another 60 years until it was changed from Decoration Day into Memorial Day in 1967 and then 4 more years until it became a federal holiday.
Memorial Day and Veterans Day are often confused because they both are for honoring military personnel. The difference is, Veterans Day honors any person that has been in the armed forces while Memorial Day is for remembering the people who died during their service. Memorial Day also marks the begging of summer season with most recreational pools opening on this weekend.
On this day all American Flags are raised to full-staff then slowly lowered to half-staff position, this position is specifically to honor all the fallen soldiers of our great country. The flag stays at half-staff until noon when it's then raised all the way to the top for the rest of the day. If transitions to full-staff to commemorate the notion that the fallen soldiers memories will be raised by the living who will not allow their sacrifices to go in vain.