Frame USA's Specialty Framing Manager on Favorite Hobby Friday
The last time we had favorite hobby Friday we featured our administrative assistant Jill and her awesome guitar making abilities. We're back again this week for yet another extremely unique hobby. I sat down with the Specialty Framing Manager from our retail store, Jennifer Miller to talk to her about her hobby.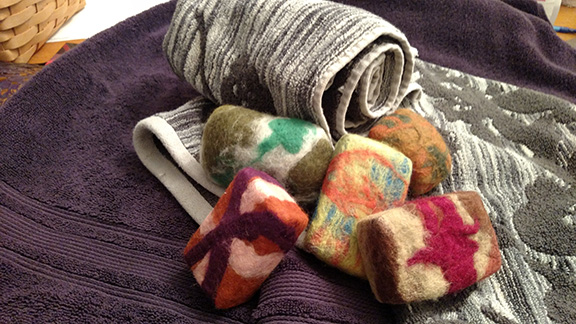 Jennifer what is your, What is your absolute favorite hobby?
My absolute favorite hobby is making felted soaps
Felted Soaps?! Oh this is going to be interesting, when did you first start making them?  
I first started making them a few years ago.
How did you even get into making felted soaps, it's such a unique hobby?  
I have been enjoying making wool felted artwork for many years. After finishing pieces, I usually have a tiny bit of wool left. Too little to do anything with; and I'm too much of a pack rat to throw it away. I started brainstorming and looking around for something that I could do with all these little scraps. 
I came across an article on a crocheting site that the lady was crocheting these little bags that soap would go into. She explained the benefits of encasing soap in bags: decoration, soap savers, great for exfoliation, etc. I was intrigued and went searching. My research came up with some interesting things.
Soap holders are a well-established craft dating quite far back. And one of the main ways these encased soaps get made is by using a wet felting technique. Since soap is small, my little scraps can be used to make this fun and colorful craft. People give me an odd look when they get a felted soap bar as a gift, but when they use it; they get hooked!
That is so awesome! How long did I t take you to become a master at it?  
I first learned wet felting techniques about 8 years ago.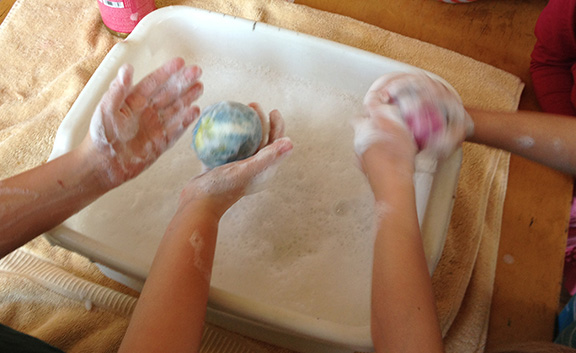 So you've had this capability for quite some time, how many hours a week would you estimate you spend on making these felted soaps?  
It depends on if I'm working on a felted sculpture. Currently I am, and I take a few hours to felt the soap after I've finished the sculpture. So I usually make a few bars a month. The sculptures are the main focus of every waking hour; the soap happens to be a fantastic "bi-product".
I would say so! I'm so intrigued by this hobby, what is your favorite part about it?  
I love how the colors mingle together and the very unexpected nature of wet felting. Plus the soap gives off wonderful aromas that make my place smell nice.
Oh that is wonderful, what is your least favorite part about it?  
When looking for handmade soaps, finding a bar with a funky aroma and it makes you wrinkle up your nose.
Oh that stinks! Pun definitely intended. What has been the most memorable experience with this hobby?  
Since I give my felted soaps as a gifts; I love seeing peoples' smiles; and hearing from them later that they've used the soap for either decoration or for cleaning.
That would be a lovely feeling! What is one thing you have learned about yourself through mastering this unique soap hobby?  
Wet felting helps calm me down. It can be very meditative. Picking out soaps for certain people; deciding if the wool will more represent the soap aroma or the person I'm giving it to; or maybe it will just simply be a miss-mash of wool scraps. All the repetitive motions of wet felting process helps me to focus on the motion; how the fibers are intertwining; even how the soap suds squish around my hands. And all of that helps me tune out the rest of the world.
That does sound like a very calming hobby, what is your advice for people who may want to start doing it?  
HAVE FUN!!
Thank you so much for enlightening our readers and myself about this beautiful art form.
 
If you have a favorite hobby and would like to see it featured on our blog, Email our SEO Coordinator at [email protected]!