There are so many sites and blogs out there dedicated to helping you decorate your first apartment or house. In fact when you do a quick google search for Decorating your first apartment  you will get about 23,400,000 results to sift through.
After going through the first page of results I had an overwhelming realization that not many of those 23,400,000 results gave me something that was temporary. All of them talked about hanging frames, or screwing in mirrors or adding shelves. All of which are the perfect solutions for those that have purchased a house (we're personally biased on the hanging frames part). However for those that are transitioning into their very first apartment, all of these tips are crap. When you're  renting a space you don't have the ability to screw things into the walls, add shelves, hammer in nails or even sometimes paint your walls a fun color without the risk of forfeiting your security deposit.
So what is a new renter supposed to do to turn their rented Apartment into a home?
We've come up with some great ways on how to decorate an apartment without nails or screws.
one of the easiest ways to decorate your apartment is with fun furniture. A funky couch or chair can really spice up a living room. For those that aren't into having such a big purchase be the focal point of the room. Try to use pillows or blankets as a way to add color. You can get pillows with sequins or lace  or different colors the possibilities are endless.
Since we aren't a full shop for decorating we know more about decorating with picture frames and art. The only problem is that what happens when you have a large piece of art— large frames take screws or nails.
But don't worry you have some options, for one, if It is a frame that is not too terribly large you can purchase what we refer to as an easel mate.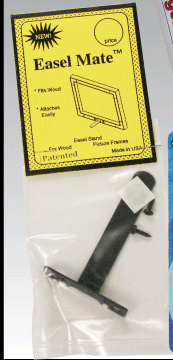 The easel mate is perfect for the larger more manageable frames such as 11×14 and smaller that don't normally come with an easel back. It screws into the back of the frame and turns  that hanging frame into a table top frame or a shelf frame.
The other option if the piece of art is too large is to have an easel mate is to use poster mounts or mounting tape. This is a mountable adhesive that allows you to hang posters and art prints to just about any surface and have it easily remove.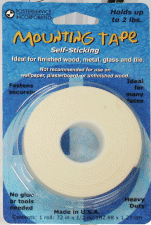 The other option for the larger pieces is to hang it with a frame. If you are thinking how can i hang my art with a frame, didn't you just say that large frames don't work in apartments? You would be right, I did say that. This isn't your normal type of frame. This frame is something called poster hangers.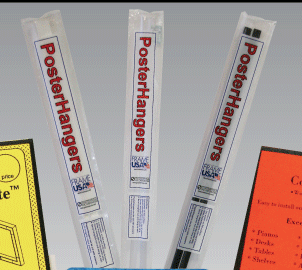 These are plastic pieces that slide on to the top and bottom of the piece and sit flatly on the wall. These poster hangers typically come with metal saw tooth that you screw into the wall but for our particular purpose that won't work. But these can also use the poster mounts or mounting tape as a way to add some pizzazz to a piece and still not leave a mark.
So use these tips and go forth and decorate your new home but first, tell us, What are some of your apartment decorating tips that don't require screws or nails?