Led Zeppelin. *sighs*
One of the greatest rock bands of all time. Arguably the most influential hard rock band of the seventies and undeniably still popular after four decades and change. They gave us  "Dazed and Confused," "The Ocean," "The Immigrant Song," and a million other face melting anthems that resonate with headbangers young and old. Of course, they also gave us the most requested song in radio history–"Stairway to Heaven" which inspires people to sit in their car and wait it out till the end, even when they've reached their destination. Zeppelin is that good.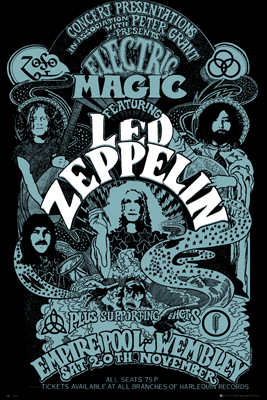 Of course, being such a seminal and sought after group, they are naturally protective of their image and branding. They don't allow their music to be used in other media lightly, nor do they license posters very often. It's been several years since anyone was allowed to carry Led Zeppelin posters. So here at Poster Service we are very excited to have 5 NEWLY LICENSED LED ZEPPELIN POSTERS FOR SALE ON THE SITE! We have "Wembley Stadium";  "Celebration Day"; "Swan Song"; "Mother Ship"; and "The Song Remains the Same".
So go put on your favorite Zeppelin album (mine is Led Zeppelin IV) and while you're blasting "The Ocean" or "Dancing Days," head on over to artandcanvas.com and pick yourself up a poster to match your mood!