It's officially the one-year anniversary of our improved website! We've added a lot of great features over the last year to make FrameUSA.com your all-in-one art and frame shop on the internet. Today, we thought we would look at our 2013 year in review and show off all the features you may not have known about!
Laser Engraving
Our first order of business after we redesigned FrameUSA.com was to create a web app that shows off our Laser Engraving services. We were so proud of this product that we wanted to set it up first! Perfect for customers looking to buy anywhere from one to a thousand engraved frames, this feature allows you to select a font, frame, engraving plate and even an image that you would like engraved directly on the frame. Needless to say, this was a customer favorite.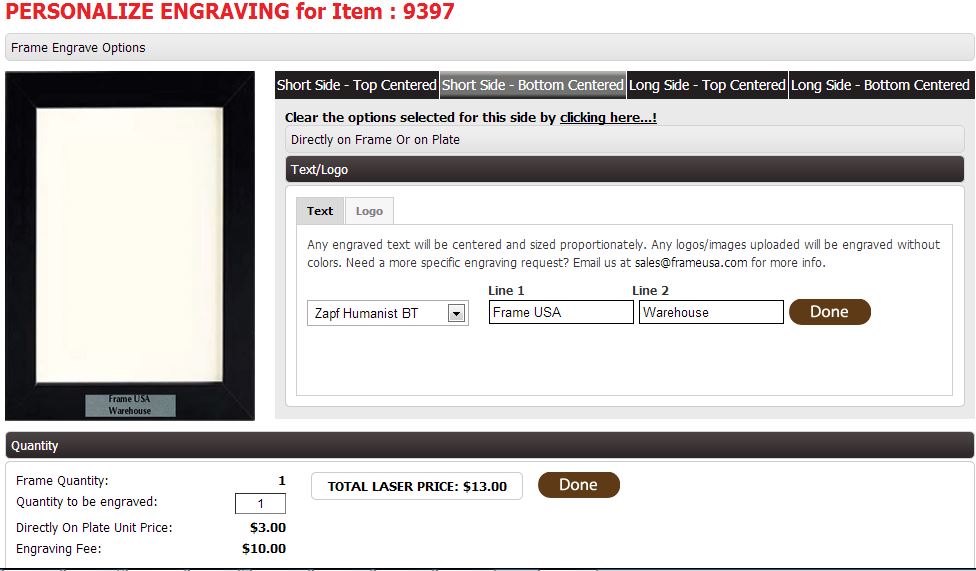 Build A Frame
An online custom frame shop! How cool is that? We were especially excited to get this up and running, after having our customers request a service that allows them to visualize their finished frame product as opposed to simply ordering a custom frame and separate mats. To top it off, we allow our customers to upload their own artwork for us to print and frame for them! We also offer options for the customer to order and frame 3 mats from MatDesigners and any of our posters from our sister site, Posterservice.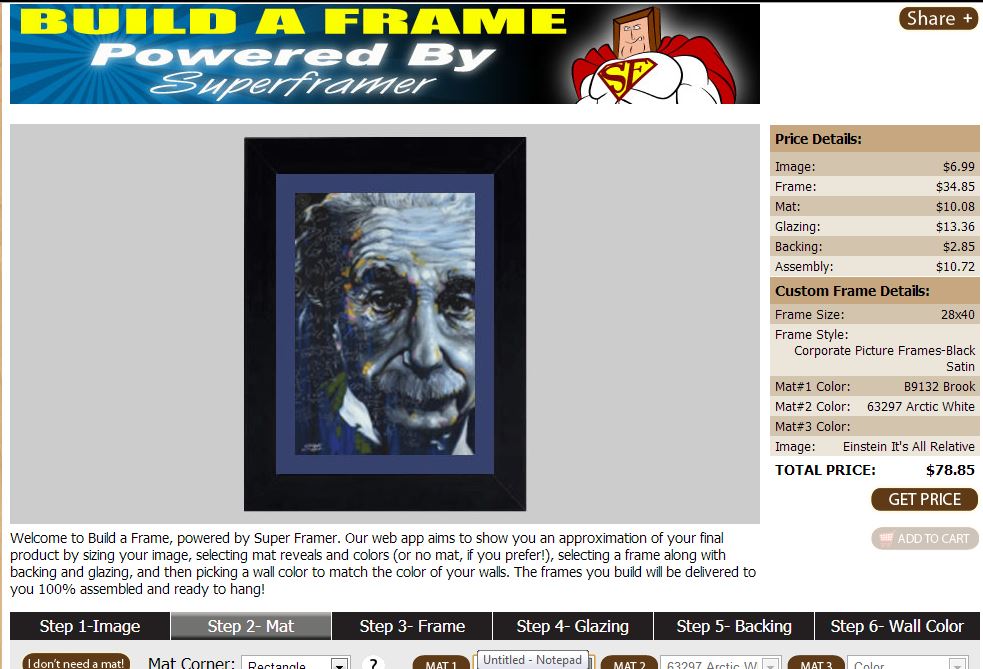 Related Products and Accessories
Another feature we added was on each of our product pages – Related Products and Accessories. Along with the custom frames and volume order form tabs, Related Products and Accessories are there to make your experience far easier. From these tabs you can select a similar product or an accessory to your frame, such as a sawtooth hanger or wire hanging kit. The best part is, you can add any accessory you'd like and you never have to even leave the page! Simply select the quantity and click "add to cart".


Redesigned Affiliate Websites
 FrameUSA.com wasn't the only website to undergo a great number of changes – we also added Posterservice.com, Matdesigners.com and FrameCloseouts.com into the mix! Now customers can add items from every website into their cart and check out everything at once! This also allowed us to incorporate Build A Frame into a powerful tool that lets the customer take advantage of all of our websites at once. Click on any of the tabs at the tob of the page on FrameUSA.com to visit them.

Looking Ahead with FrameUSA.com
What sorts of plans does Frame USA have in store for 2014? There's been rumors swirling of mobile apps, new products, gift card features, video tutorials and more social content from around the office. Follow us on facebook to stay in the loop!
Until next time, keep calm and frame on!