Starting August 1st, tent sale shoppers can save 25%-50% off all picture frames and posters under the tent!
For Cincinnati locals, you'll be happy to know that it's that time again! Frame USA is having its annual tent sale. Our early August tent sale has always been about saving hundreds in art, wall decor and framing. Join us as our progressive approach to savings expands from 25%, 35% and all the way to 50% by Sunday!
Now, while we are also the type to hold off to get the best possible savings, waiting until Sunday does limit the number of frames available. At these prices, everyhing sells fast!
Here are some tips from us on how to get the most out of our great prices from the tent sale:
1. Stop by early, even if you don't intend to buy.
An early start on Friday means there are more chances to find exactly what you're looking for.
2. Know when to buy, and when to wait and save.
If you are looking for something common (like a brown 8×10 frame), you shouldn't find too much issue finding what you need. If you're looking for a specific type of frame, or to find an odd-sized custom frome that made it into closeouts, you may want to hurry by. We also have plenty of great posters to put in those frames as well.
3. Think ahead when attending the sale: birthdays, holidays, graduation, dorm rooms, etc.
Sales like this don't happen very often, and even our employees are thrilled to stock up on items for their family and friend's gifts. If you have any significant events in the upcoming year that need a frame, you can save some serious cash at our tent sale.
4. Don't be afraid to ask questions.
Our staff is knowledgeable and ready to help answer any and all questions about art and framing. Stop by and join in on the fun!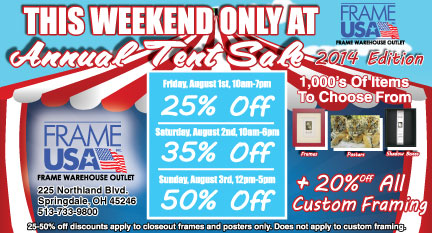 Frame USA
225 Northland Blvd.
Springdale, OH 45246
513-733-9800
Event begins Friday, August 1.