I'm sure you, just like me and many others out there, have a ton of t-shirts that you don't wear. They may be in drawers you don't even bother to check, shoved to the back of a closet or even in a storage bin tossed somewhere in the basement. If you're looking for something to do with that piece of clothing that you just can't get rid of, Frame USA has the thing for you: Frame-A-Tee!
Our Frame-A-Tee collection consists of t-shirt frames that are perfect for when you want to frame a collectible shirt or jersey! These American made wood picture frames have a 1 inch depth making it easy to fold and frame a tee-shirt. Frame-A-Tee comes in with 3 different colors to choose from (Black, Natural and Walnut) and three different sizes to fit your apparel (12×12 for small/medium shirts, 14×14 for medium/large shirts and 14×18 for large/extra large shirts).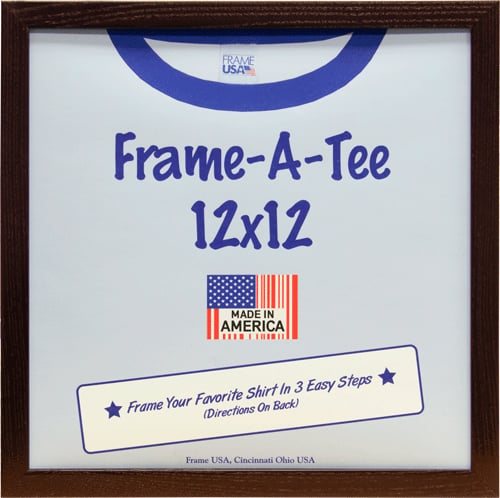 The Frame-A-Tee series is a very popular way of showing off what high school or university you attended, shirts from different places you've traveled, sports teams you support, a shirt from a race you entered, or something as simple as a favorite shirt you don't want to part ways with. In addition to the color and size options, every Frame-A-Tee also includes: frame, plexi-glass, two pieces of black foamcore, two pieces of cardboard, a wire kit for hanging and instructions for assembly.
Similar to our Frame-A-Tee series, we also have Frame-An-Album. Our Frame-An-Album collection is the perfect complement for your favorite record album cover or artwork.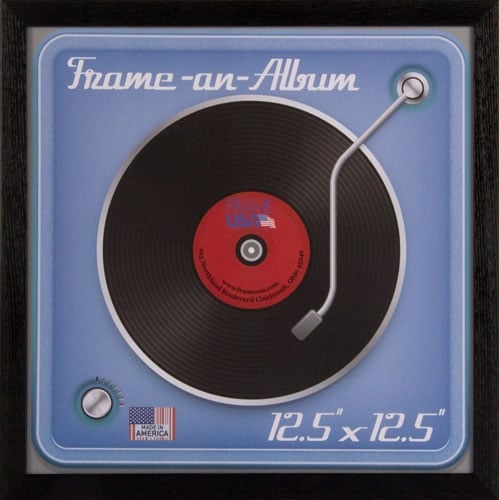 We know you will enjoy this product so head on over to Frame USA, get one now and let us know what you decide to frame in your Frame-A-Tee.