We've received some great feedback on our Small Business Saturday Initiative, and we're more than excited for the opportunity to promote these wonderful Etsy artists and small businesses! If you have yet to make your holiday purchases, consider these wonderful artists and craftsmen for your holiday shopping. Remember, shopping small and buying local helps our local and overall US economy! At Frame USA, we're 100% behind products that are made in the United States.
Susan Monty Fine Art
"I am a fine artist specializing in equine art. I draw and paint whatever captures my eye, but horses will always be my favorite subject. I strive to capture a realistic, but artistic and expressive, likeness of my subjects.
As a lifelong horse lover, I am pleased to donate a portion of sales from my Second Chances series to Pure Thoughts, Inc. Horse & Foal Rescue (www.pthr.org) or New England Equine Rescues (www.newenglandequinerescues.com). Both of these groups have saved the lives of numerous horses, and I am proud to use my art to help. Many of the prints in my shop are from my Second Chances series, an ongoing project in which I paint portraits of rescued horses and tell their stories.
I am also passionate about saving America's wild horse and burros. I have started a series of paintigs of these magnificent animals. Unless something is done to protect them, wild horses will only be seen in photos and paintings. I will donate a portion of all sales of these mustang paintings, cards, and prints to Journey's End Ranch Animal Sanctuary (www.jersanctuary.org)."
Click here to view Susan's Etsy shop.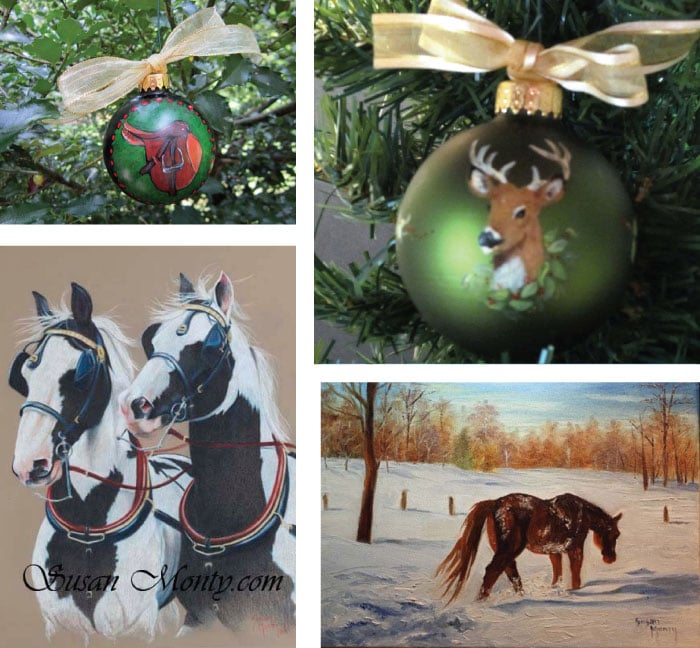 Few Kind Words
"Everyone needs just a little time and a few kind words! Shop our monogram quote prints for yourself or as unique and personalized gifts for weddings, nurseries, or friends. We print on high-quality card stock and frame in a white driftwood with an antique white mat. We can customize any order with different letters, quotes, fonts, and colors."
Click here to visit this Etsy shop.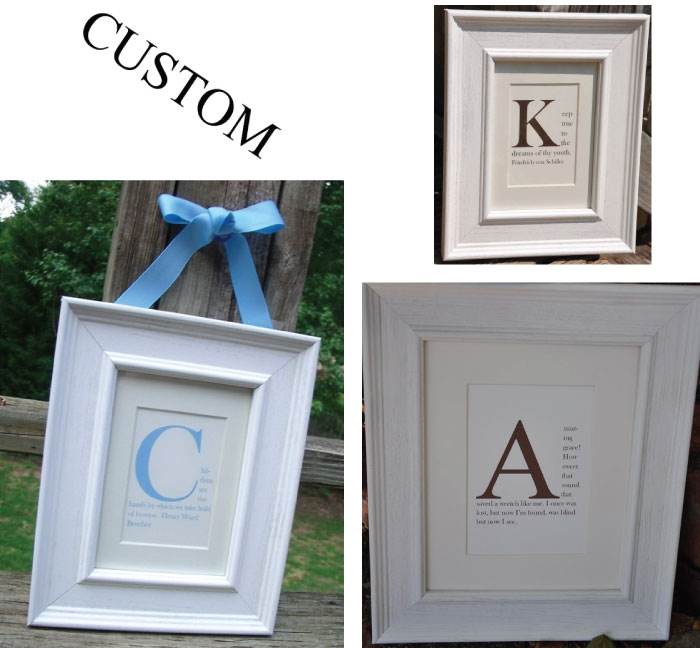 Junebug's Creative Concepts
"Decorative photo frames, wood letters and more. Great personalized gifts! Decoupaged and distressed so each item is unique. Any item can be customized.
Looking for a gift? I can mail items directly, and I'll even gift wrap it and include a hand written note for free. Mark my shop as a favorite and come back often. I'm always adding new things. Thanks for visiting and be sure to "Like" me on Facebook to be the first to know about new items and promos. "
Click here to visit Junebug's Creative Concepts on Etsy.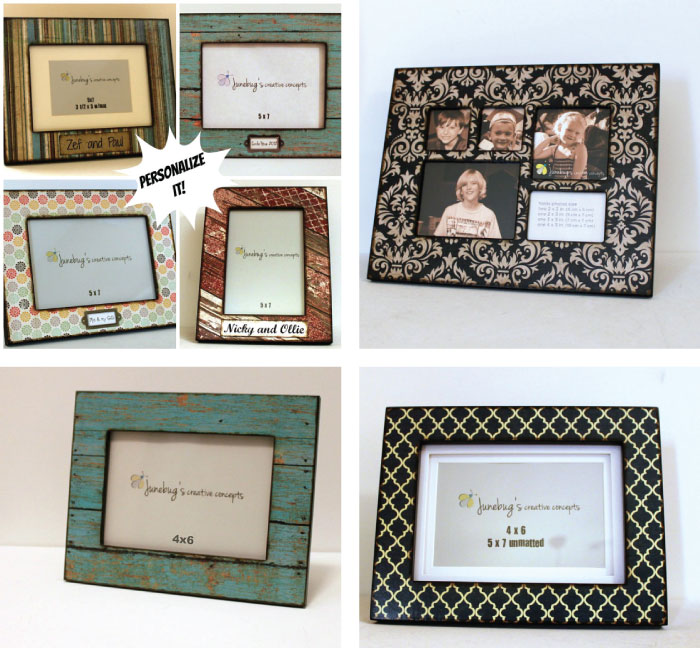 Name On Your Wall
"Name art photography, from Name on Your Wall, uses elements found in nature, architectural details and every day objects to create unique and personal works of art. They are the perfect solution for creative wedding gifts, shower gifts, housewarming gifts, new baby gifts, holiday gifts or for any other occasion. They are also the perfect way to showcase your name, or any word that is special to you, on your own wall. With so many different options for each letter, your creation will truly be unique.
My framed name art is elegantly designed with high quality photographs, custom cut mats, and custom made wooden frames. Your project will receive personal and professional attention from me, incorporating all of your preferences. These details will result in breathtaking and elegant works of art that both you and your loved ones will enjoy for a lifetime!"
Find these prints and more at their Etsy shop!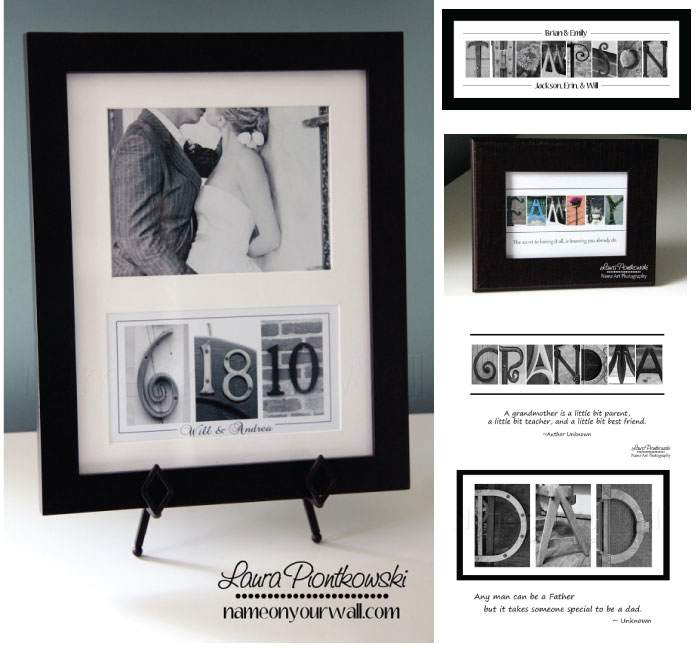 William Supko Photography
"I'm a freelance photographer that specializes in outdoor entertainment and events.  I have been a professional photographer for over 5 years.  My main focus includes amusement parks, carnivals, ski areas, beach scenes and nature."
Click here for a link to his Etsy shop.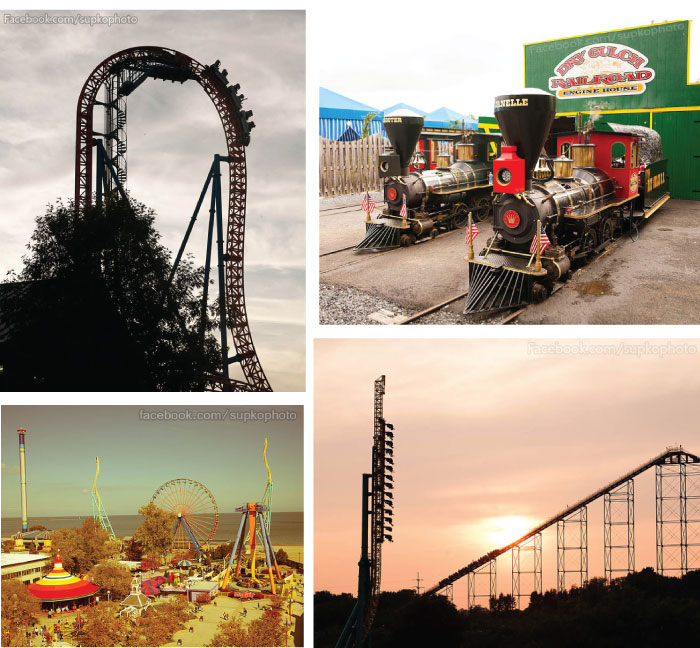 Tides Of Eternity Art by Chrissy Schroeder
Chrissy Schroeder is a Cincinnati, Ohio local who creates a great amount of baseball-related artwork. Cincinnati is a great place for it to, since we're also the home of the Cincinnati Reds!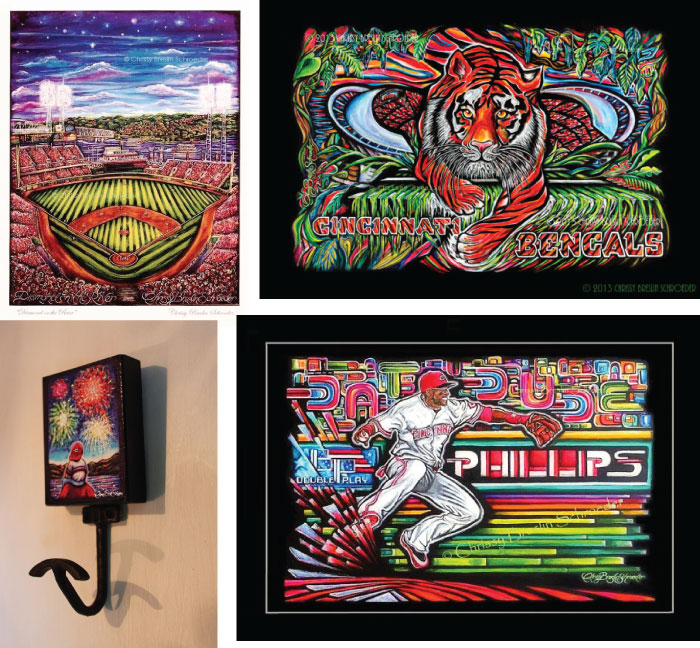 You can find her work by clicking here.
We'll be sure to keep updating this list as we continue to take submissions. Thanks for joining us in our goal to put America's small businesses at the forefront of our economy! Small business owner? Leave a comment below and we'll see what we can do for you!