So your standard print size is 16×20, and you have lots of large format, medium format, and high-quality digital photos that you would like to see hanging on your own walls, and those of your family and friends. For professional and archival results, you could use fine art paper, museum rag, Nielsen frames, and acrylic glazing, but the materials for each one of these masterpieces will set you back over $100, even if you do them yourself. And mounting prints floated under custom-cut mats is a demanding and time-consuming process. A more practical, but still elegant, solution is to print the photos as posters and display them in Economy or Architect wood frames by Frame USA.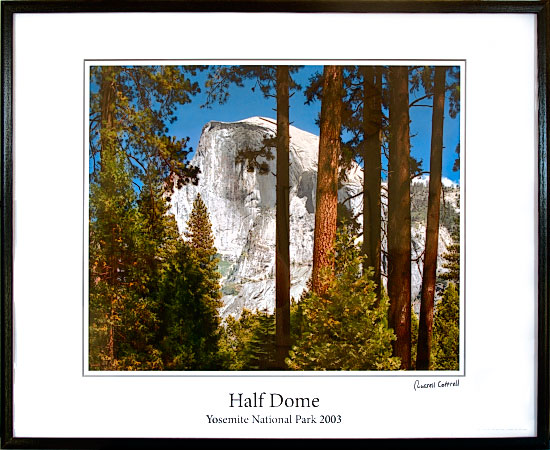 These images were printed on plain inkjet paper and framed in 24×30 frames. For panoramas, use 24×36. The faux matting and text were added with Photoshop. Since the mat can be as thick as you want it to be, go for 8-ply! I like the Economy frames because of their rounded profile, but Architect works too. Be sure to use a wire hanger with picture frames this size. Besides being economical, the framing is a simple one-step process. Most importantly, simple plus economical equals more incentive to print, and more prints. Once they are hanging on the wall, you can obsess over them to your heart's content, and even reprint them if you feel like you have to, without going to too much trouble. Then maybe someday, when someone wants the professional article, you can tweak the photo a little, load the baryta paper, and cut the museum rag.
Russell Cottrell is a fine art photographer. Many of his images are taken of scenic landmarks and natural geologic formations. Russell has several images and photography tips available at his web page here.