Sleek and modern styling for decor has been in fashion for a while now, but recently a return to a more rustic approach has been gaining popularity. A lot of people are finding that the homespun, outdoorsy look helps them relax better after they've spent a long day at an office where the surroundings are all straight lines and neutral colors. This has led to a boom in the business of "reclaimed" wood–wood taken from demolished farmhouses, outbuildings and barns–to create furniture and decorations. And of course, here at Frame USA, our interest lies in one particular form of home decoration: Barnwood picture frames.
There are different kinds of reclaimed styles on the market. The most well known is the kind that is actually reclaimed from those old farm buildings. The planks are taken away and stripped of paint and checked for errant nails and splinters before being collected and sent to the artisans and manufacturers who will create picture frames out of it. What lends it so much charm are the imperfections that come with it. The slightly warped or uneven edges, small knotholes and chips. This lets you know that it is real and has its own unique history.  The one problem with truly reclaimed barnwood is that, sometimes the imperfections can be too imperfect. It's impossible to catch every knothole that's just a little too big, and sometimes those chips are big chunks to noticeable to overcome.
To get around that, some suppliers have created a barnwood look, made from regular fresh lumber, but distressed to give it that reclaimed, country look. This ensures that, while the style is reminiscent of true barnwood (sometimes impossible to tell from a distance) it has a more consistend finish for those who are looking for a material that's easier to work with.
At Frame USA, we currently have two different barnwood style frames that are made in the USA.  The first kind is our Appalachian Barnwood picture frames which are the closest to our old style reclaimed wood frames.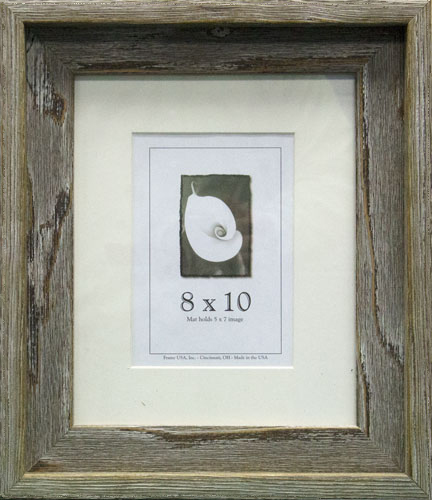 These beautiful barnwood art frames come in four different colors (Grey, Whitewash, Rustic Black and Rustic Brown) and all of our standard sizes up to 24×36.They have the distressed and "stripped" look of true barnwood and feature a "double frame" style build. These are ideal for putting up in a den, family room or living room.
Our other current style of barnwood frames is our farmhouse style barnwood picture frames for sale. These have a simpler build, with a flat profile and come in two different colors, white and charcoal. These picture frames also have a distressed finish, and with their simple profile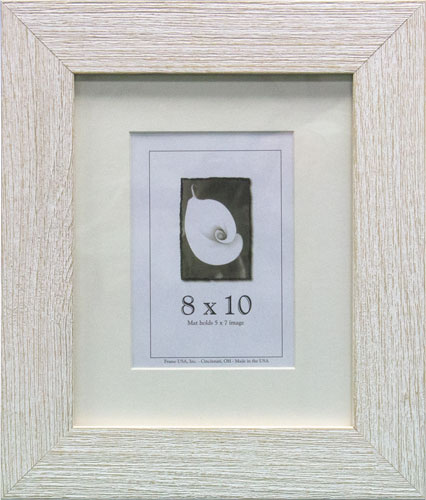 would go well in a kitchen, bathroom or bedroom (though either of these wood frames would work perfectly in any room of your house).
So if you have photos and art you want to hang in frames that remind you of a time when things moved a little slower and lives were a little less hectic, think about picking up one of our barnwood frames. True beauty that's found within imperfection.