Artistic framing is precise framing, guiding the customer with their ideas to make the total composition fit their exact needs.
In many cases, the design of a picture frame (as well as the mat pairings, v-grooves, bevels etc.) make as much of an artistic statement as the artwork itself. Framers use design principles such as color theory, geometric correctness, depth perception and texture to decide what will compliment your artwork to the best of their ability. This is, of course, all done with the artwork and your own personal preferences in mind, and a good framer will walk you through the entire process.
It's also an impressive feat when a framer will not only custom frame your piece to perfection, but engrave and/or carve your specific designs into the wood. While we don't specialize in custom framing to that degree, we do offer personalization services, laser engraving and a fully-staffed custom framing department that can answer any questions you have about making your artwork even better with a frame job that completes the composition.
Unlike other custom framers (both online and in our retail store located in Cincinnati, Ohio), our  photography and art-creating customers see much higher sales and return by framing with us. How, you ask? Lower price points for all of our items and labor! In one example, we had a customer call in from a local big-name hobby shop that wanted to charge somewhere in the neighborhood of $900 for a relatively small frame job (and that was with 50% off!) For the same service (and better quality, in his opinion!) we worked with him to frame his total order for only $479.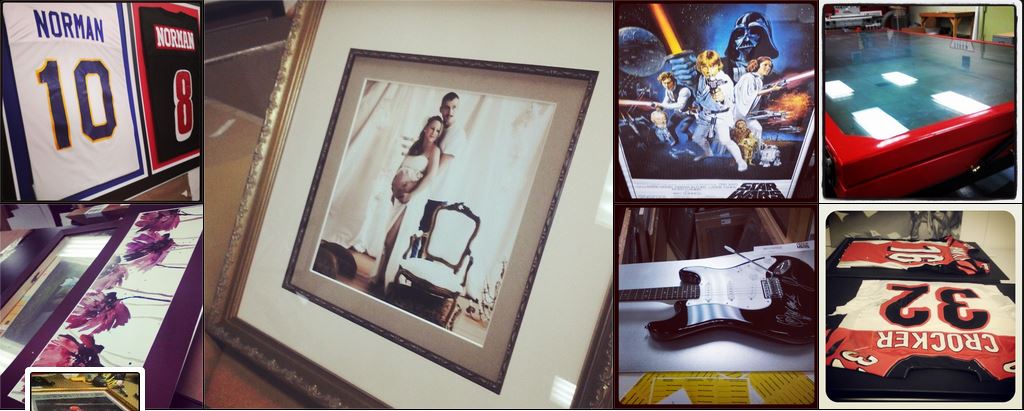 You can follow our instagram account to see just what kinds of artwork and memorabilia we've been framing, from guitars signed by the "Goo Goo Dolls" to movie posters, sports jerseys to ornate wedding photography. Fill out our custom quote form today to see how we can make your art preservation dream a reality (while also saving you money!) We hope this blog post gave you some insight on the art of framing.