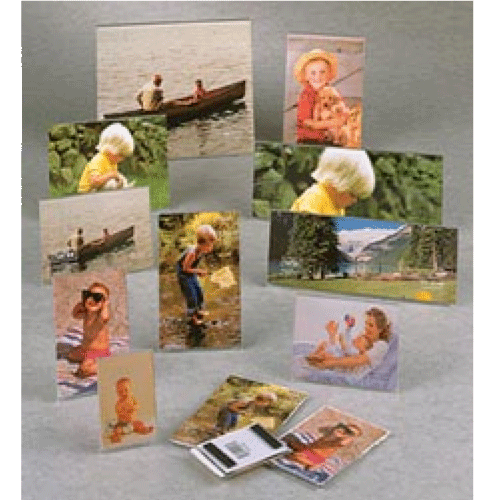 Acrylic picture frames allow for a myriad of choices when decorating a home. While these frames are not meant to be hung, they do provide options that other frames do not. Oftentimes, homeowners tend to focus on bare walls, but they forget to decorate some of their home's focal pieces such as end tables or fireplace mantles. Through the use of clear acrylic picture frames, it is possible to add life to any room.
Childhood Montage
Childhood memories are going to be seen in every family. Whether a person wants to display pictures of their children playing soccer or they want to relive their own childhood, placing clear acrylic picture frames on a fireplace mantle is the perfect option. This allows a person to have a yearly photo of their children growing up or simply a collection of random memories that will never be forgotten. The possibilities are endless and bent frames even allow the option of before and after pictures to be displayed. Different clothing styles, haircuts or getting braces taken off are just a few of the ways to utilize bent frames.
Showing the Family Generations
New additions to the family become more precious throughout every generation. When a person has been lucky enough to take photographs with their grandparents and great grandparents, they will have an everlasting picture that they will surely want to display in their home. Instead of stopping there, collect photographs of all family members to make a family tree of sorts. With bent frames, it is possible to put both a grandfather and mother in one frame and their children in another. This is a great use of the bent acrylic frame and one that will really hit home during the holiday season.
Scenic Pictures to Brighten a Room
Landscape and animal photographs will be able to breathe life into an otherwise dreary room. These photographs will need to be displayed right where the sun can hit them so that they radiate the true feeling of nature. A picture of a beautiful dandelion is always better received when the light reflects off of the frame. This brings a room to life and will change a dark room into one that is truly inviting.
Acrylic Frames
Clear acrylic picture frames allow decorations to take on a life of their own. Virtually any surface will be able to have a frame placed upon it including dressers, desks or mantles. When all of the right pictures are added together, a decorative piece can instantly be created through the combination of photos.