These past few years have been unlike anything that we've ever experienced. From COVID to material shortages all the way to inflation there have been a lot of things that have had to be altered. Our charity initiative, Fill The Truck was one of them. For the past three years we've highly encouraged online donations over physical ones to keep everyone safe. When we made this decision in 2020 we honestly didn't know how it would go, in the end we were pleasantly surprised by the continued generosity of our donors. Three years later we lessened the strictness and allowed for more physical donations and our customers delivered. Now that we've had a chance to let it sink in we're here to announce: The Fill The Truck Initiative Charity Results.
13th Annual Fill The Truck Results
Fill The Truck may seem like a pretty big initiative when you see the the results that we've achieved over the years but the truth of the matter is that every part of the initiative is managed by Frame USA employees on top of their day to day responsibilities. The mission is such an important one that no matter how much work it is, we will always continue it!
This year we had 12 corporate sponsors that helped us put on the initiative. We kicked off the initiative the Monday right after Thanksgiving and ended it December 23rd. 26 days was all we had to raise money and collect donations for 6 different charity organizations around Cincinnati.
While we wouldn't be able to put on the initiative without our corporate sponsors giving us a jump start, we would not have been able to collect as much as we did without the 135 generous companies, individuals and businesses who donated throughout this time.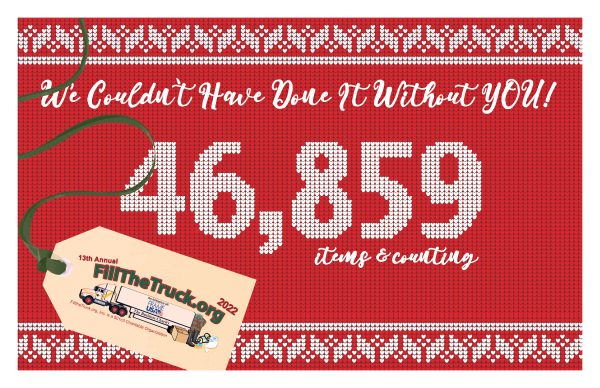 December 23rd was the date we created our post card Thank You, but following that and before delivered all the goods we received additional donations that have raised our total item count to 51,661 items. Which tops 2021, AND 2020 numbers
To help us get a head start for next years initiative we have selected Fill The Truck as our Charity of the Month for January 2023. If you are interested in becoming a sponsor or donating directly you can do so on our website at fillthetruck.org